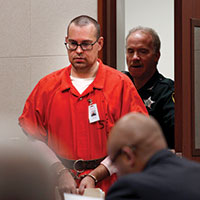 Accused slayer Jones files last-minute pretrial motions
STORY BY LISA ZAHNER
Photo: Michael David Jones in court.

Everything but the kitchen sink.
That's the non-technical term for what defense lawyers are throwing into the legal mix two weeks before jury selection is set to begin for the murder trial of Michael David Jones.
It's unclear who has been steering Jones' defense team since the accused slayer of nurse Diana Duve petitioned Judge Dan Vaughn to fire his three lawyers last month, but the pre-trial motions have been flying like crazy.
The motions force prosecutors to respond, eating up time needed to finalize their preparations for what's expected to be a four-week trial with more than 100 witnesses, including an impressive gaggle of medical and behavioral experts.
Nearly 200 new pages of documents prompted by last-minute defense motions have come out just in the past week, on top of the more than 5,000 pages of pleadings and discovery accumulated since Jones arrest in the summer of 2014.
Among the 11th-hour wrinkles the defense is fighting for is the right to show everyone in the jury pool graphic photos of the crime scene where Duve was found dead, an autopsy photo and photos of the attractive 26-year-old Sebastian River Medical Center nurse enjoying life before her murder in June 2014.
These types of photos would be shown to the jurors and alternates selected to serve in this first-degree, capital murder case, the defense argues, so it's only fair to show them to the potentially hundreds of prospective jurors, to gauge their visceral reaction.
"Merely describing the images that jurors will see fails to adequately pinpoint which jurors will hold strong biases against the defense once they are actually sitting as jurors and seeing the photos for the first time," the Sept. 12 motion states.
Judge Vaughn had yet to rule on this motion at press time but the concept of showing crime scene and autopsy photos to the whole jury pool is virtually unheard of, according to experienced prosecutors.
The defense tried to get an April 2014 incident tossed out of evidence, but Judge Vaughn ruled that details of the police call to Jones' townhouse, which Duve fled in her pajamas while police stood by, are admissible as evidence.
Duve at that time told friends that Jones choked her and tried to kill her, and prosecutors will likely present cellphone photos showing her bruised neck and witnesses to testify that the marks are consistent with a strangulation attempt.
Evidence tracks Jones from his residence in Vero where Duve allegedly was killed to Babcock Street in Melbourne where police found Duve's body in the trunk of her own car. From there, Jones allegedly called a cab to drive him back to Vero.
The defense also is challenging the police photo lineup by which the cab driver identified Jones. The defense's objection is that Melbourne police did not follow a 2018 policy regarding age spans for people included in photo ID lineups – even though the photo lineup by which the cabbie identified Jones as his passenger was conducted four years prior in 2014.
With all the last-ditch efforts to try to break the very convincing chain of evidence produced by police, the defense risks provoking the judge before the first day of trial.
Last week during a hearing on evidence related to the alleged April 2014 attempted strangulation of Duve, Judge Vaughn scolded Deputy Assistant Public Defender Stanley Glenn for not filing his challenges to the five-year-old evidence much sooner.
Glenn said it took a long time to track down one of the police officers involved because he had left law enforcement to become a minister and had to be located out of state and was only deposed this summer. That explanation did not seem to wash with Vaughn, who emphasized to Glenn and to co-counsel Assistant Public Defender Dorothy Naumann that he cannot just rule off-hand from the bench on these pre-trial motions.
Instead, the judge needs to file written orders responding to last-minute challenges, "due to the nature of this case" – meaning that Jones is up on premeditated murder charges that could carry the death penalty if he is convicted.
The assertion that Jones – who is not only a college graduate but a law school graduate with two advanced degrees who worked as an investment advisor at the Ocean Drive PNC Wealth Management office – has brain damage from his teen years that impairs his cognitive ability is another tactic the defense plans to try out in hopes of saving Jones from a death sentence.
As part of Jones' defense as a now-indigent person, Florida taxpayers will be paying no less than five medical experts to testify about Jones' brain.
In addition to the medical doctors, Steven Gold, PhD., a trauma expert out of Plantation, Florida, "will testify about the existence of and mitigating impact of childhood trauma and adverse childhood experiences suffered by the accused."