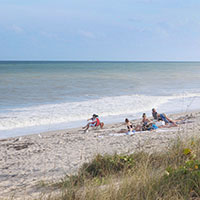 Beach path by Surfsedge moves ahead; completion expected in November
STORY BY LISA ZAHNER

A 5-foot-wide public beach access that caused a great deal of controversy when the Town of Indian River Shores wanted to sell a 5-acre overgrown oceanside parcel to a private developer is now quietly coming to fruition on the construction site of the Surfsedge community on A1A.
The town has approved about $11,000 for the $24,000 project; the remaining cost will be split between the Lutgert Companies, which is building Surfsedge, and residents of Pebble Beach Villas, a condo complex immediately south of Surfsedge.
Shores Town Manager Joe Griffin said it should take roughly six weeks to complete the walled coquina rock path. The thick forest of invasive Brazilian pepper trees that covered much of the property has been torn down and mulched, and the land cleared, according to Lutgert project manager Mike Hoyt.
"The path is started with the coquina already installed. The fence on the south side of the path will go in the next couple of weeks, then the last piece will be the site wall on the north side of the path," Hoyt said. "That is about six weeks out.  We will be able to open it up to the public after the wall is in place."
The public beach access honors a promise made by town officials to the Schlitt family when the 5-acre property was transferred to the Shores. Residents who live on the west side of A1A fought to make sure the path they have used for decades stayed open despite the sale and development of the land.
Lutgert purchased the land from the town in an auction for $4.4 million in April 2017, and is in the final stages of getting permits for 12 single-family homes plus 12 luxury condominiums with ocean views.