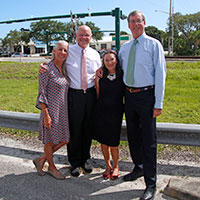 Commissioner Solari to retire at end of term; seeks to anoint Auwaerter as his successor
STORY BY RAY MCNULTY
Photo: Jackie and Bob Solari with Nancy and Bob Auwaerter.

At age 67, County Commissioner Bob Solari has decided to retire in 2020, when he completes his third term – in part because he sees the opportunity for a smooth transition from one staunch fiscal conservative to another.
So in announcing his plans Monday, Solari endorsed Indian River Shores Vice Mayor Bob Auwaerter, who declared  his candidacy for Solari's District 5 seat on the commission at a joint news conference.
But Auwaerter had only been in the race a matter of hours when Vero City Councilmember Laura Moss announced that she planned to run as well. Several other prominent local politicians are also expected to join the race long before next August's Republican primary, which likely will determine Solari's successor.
Solari said Auwaerter, a retired Vanguard investment management executive who has served on numerous committees in local government, is a kindred spirit who "shares our conservative values" and possesses the "financial skills necessary" to fully understand the county's budget and maintain fiscal responsibility.
Solari embraced Auwaerter as a political ally in Vero Beach's sale of its electric utility to Florida Power & Light, and said Auwaerter shares his and the county's opposition to Virgin Trains' plan to run high-speed passenger rail service through the region, and the community's concerns about drinking water and the condition of our local waters.
"He also has shown a tremendous work ethic," Solari said, "which is necessary to do the job."
Auwaerter said Solari, a Central Beach resident whose district includes the barrier island south of State Road 510, "reached out to me" this past spring through local accountant and civic activist Glenn Heran.
"It caught me by surprise – first, that he wasn't going to run again, and also that he wanted me to run for his seat," Auwaerter said. "Bob Solari has been a dedicated public official for a long time. I thought he'd be there as long as he was alive."
For three weeks, Auwaerter said, he and his wife, Nancy, discussed the pros and cons of running before deciding to seek Solari's commission seat.
As much as Auwaerter enjoys his public service, especially when he can use his finance skills to enhance local government, he admits he's not looking forward to campaigning or the raising the funds needed to do so.
"Campaigning takes a lot of time and energy," Auwaerter said, "and nobody likes asking people for money."
In addition to Solari's endorsement, Auwaerter can count on support from the Taxpayers' Association of Indian River County, which in December named him "Fiscal Conservative of the Year."
"I'm really tight with a buck when it comes to the taxpayers' money," Auwaerter said, "so receiving that honor is something I'm very proud of."
Since retiring and moving to the Shores five years ago, Auwaerter, 64, has immersed himself in local governance.
Besides serving three years on the Shores town council, he has served as chairman of the town Finance Committee's advisory board; chairman and vice chairman of the Vero Beach Utilities Commission; chairman of the county School Board Audit Committee; county representative to the Treasure Coast Regional Planning Council; and chairman and the Shores' representative on the county's Metropolitan Planning Organization.
Auwaerter said his motivation for these unpaid, volunteer commitments has been his affection for the community and a desire to make it even better.
"I decided to take the knowledge that I had acquired working 36 years in the investment management business – especially municipal finance – to help government provide its services more effectively and cost-efficiently," Auwaerter wrote in his campaign documents.
Auwaerter said that, if elected, he will "continue the fight that Bob Solari led" against Virgin Trains, which he said will have a "very real negative impact" on our community.
His other priorities will be the Indian River Lagoon, Blue Cypress Lake and county beaches, as well as the reliability and quality of Vero Beach's water and sewage-treatment infrastructure.
"There is nothing more important than getting clean, safe water out of your kitchen tap," Auwaerter wrote. "I believe that there needs to be a hard look taken at consolidating Vero Beach's water and sewer system with that of the county.
"When analyzing the financials of many utilities in my work career, I found large water systems are more efficient than smaller ones, due to economies of scale and availability of capital to make necessary improvements and repairs."
As for Solari, he said he's proud of his public service, which he described as "a great experience."  He said he hopes "the benefits of my work were as good for Indian River County as they have been for me, personally."
Solari said when he concludes his term, he plans to read more, get in better physical condition and continue his battle against Virgin Trains. He said he'd be glad to serve on a committee "if the state ever decides to get serious" about addressing its water problems.