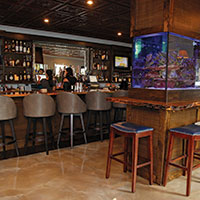 Ocean Drive gets new bar, new Bottle Shop owner
STORY BY RAY MCNULTY
Photo: The Boiler, a new bar on Ocean Drive.

The island this month not only gained a new beachside bar, but new ownership of what was once many 32963 residents' favorite liquor store, the Bottle Shop.
The two are located side-by-side on Ocean Drive, in the space once occupied by Treasure Coast Sotheby's between Bobby's Restaurant & Lounge and the Holiday Inn.
Both the liquor store and the bar, named The Boiler, are now owned by Jared Smith, his wife Billie Jean, his cousin Brian Smith, and Brian's wife Kelley.
Jared Smith has owned The Stamp bar in Vero's downtown for nine years, and has been a co-owner of The Grove bar, with fellow St. Edward's graduate Andy Capak, for seven years.
Billie Jean Smith said the family group wasn't looking to buy and operate a liquor store – just a bar. However, local commercial realtor Billy Moss presented them with the possibility of doing both and, as she put it, "Everything just fell into place."
The Bottle Shop, the island's only full-service liquor store, prospered for years when it was located in Pelican Plaza.  But after John Feuerstein sold it four years ago, it struggled and the new owners – blaming the location – moved it to Ocean Drive.
Moss believes the Smiths' new venture will attract a wide range of ages.
"We're seeing more young people on the beach, so it seemed like a natural fit to me," Moss said. "And with them buying the Bottle Shop, too, it's the perfect combination. This is the third bar I've done with Jared, and he's a smart operator who hires the right people and creates the right setting."
Though The Boiler's setting is still a work in progress – with more décor to come – there's already a rich, inviting feel to the place, which measures only 1,250 square feet and has an occupancy limit of 48.
"This was as big as we wanted to go," said Billie Jean Smith, who met her then-future husband in 2012, when she was working as a sales representative for Southern Eagle Distributing and he was buying beer for The Stamp. "If you go bigger, you'd probably have to serve food, and we didn't want to do that."
The centerpiece of the establishment is a 350-gallon, salt-water reef tank, resting on the same epoxy-coated maple surface you'll find atop the bar, which is 26 feet long, 2 feet wide and lined with 12 leather chairs.
On the back wall behind the bar are two televisions that can be seen from almost every corner of the room, which offers plenty of high-top tables and stools on an epoxy-coated, concrete floor.
The dress code?
"Shirts, shorts, shoes, service," Billie Jean Smith said, adding, "We expect our clientele to be a little bit of everybody – locals young and old from both the island and the mainland, and visiting guests of the nearby hotels.
"Our bar is fully stocked, we have an experienced staff and our prices range from reasonable to high end, depending on what you want."
She said at least 100 customers stopped in for The Boiler's "soft opening" last Thursday night, and that the bar was "busy" over the weekend.
"The numbers appear to be very good," Billie Jean Smith said. "We hear people love it."