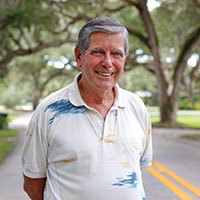 Rey Neville: The fascinating tale of a political newcomer with deep roots
STORY BY RAY MCNULTY
Photo: Rey Neville

Unless you're a member of the Vero Beach Yacht Club, where he served as commodore last year, you probably don't know much about Rey Neville, a 78-year-old political newcomer who last week filed to run for a seat on the City Council.
But you might've dined at the house his family built – the one he grew up in, was married in and sometimes returned to for anniversary dinners before his wife died last year.
That house is now The Tides restaurant.
"My bedroom was where the kitchen is now," Neville said, adding that he and his bride, Mary, were standing in front of the fireplace when they exchanged wedding vows they honored for 49 years.
"We'd go to The Tides for anniversary dinners," he added, "and the staff there would rearrange the tables so we could sit in front of that fireplace."
So Neville's roots here run deep, even though he was at most a part-time resident here for much of his adult life – until he and his wife returned to make Vero Beach their permanent home in 2014.
"We owned a home here for many years and would use it for vacations, then rent it out during the season, but we always knew we were coming back to Vero," said Neville, who spent 26 years in the Air Force, retiring as a colonel and going on to become a manufacturing executive and college instructor.
"The sad part," he added, "is that we spent a lot of time renovating the house, only for Mary to pass five months after we moved in."
Neville, who still lives in their Date Palm Road home and walks the Barber Bridge daily to stay fit, said he decided only recently to enter the race, after being approached by friends asking him to run. He is one of eight candidates seeking two seats on the council that will be vacated in November by Mayor Val Zudans and Councilmember Harry Howle. Neither man is seeking re-election.
Neville said he's "passionate about my hometown" and believes the council should listen to Vero Beach's citizenry and "proceed wisely and with caution" before embarking on projects that impact the qualities and characteristics that make the community special.
"We should make decisions based on the value of services to residents and their needs," Neville said. "We must respect City Charter property protections. We should strive to be civil, involve residents, listen well and anticipate the future."
He is particularly concerned about the future of the Centennial Place property along the lagoon, as well as the lagoon itself.
"This is one last opportunity to create a waterfront environment in the city, and we shouldn't rush into anything," Neville said. "Vero Beach's 16,000 citizens should have a major say in what happens there."
If elected to the council, he said his focus will be "to preserve Vero's values, while shaping its future."
Certainly, Neville knows how far the city has come since his family arrived here from Connecticut in 1950, when his father was battling cancer and a doctor suggested a move to Florida.
"They had given him all the radiation treatments they could, and one of the doctors told my mother that our best hope was to go to Florida, because there was natural radiation in the soil just below the 28th parallel," Neville said.
"My mother went to a map, found the 28th parallel, put her finger on Stuart and said we were moving," he continued. "She didn't know anything about Stuart, but it was below the 28th parallel. So we loaded up our 1947 Studebaker and started driving south."
The family decided to spend a night in Vero Beach before continuing to Stuart the next morning. While here, however, his mother wandered around town, liked what she saw and decided there was no reason to go further.
"She walked in and said, 'We're staying,'" Neville said. "We bought property here, built a house and, within three years, my dad was completely healed."
Neville, who was only 8 when his family moved to Vero Beach, remembers the dirt roads and empty lots of his childhood.
"This town has changed a lot over the years, but it's still Vero Beach," Neville said. "That's something we don't want to lose."