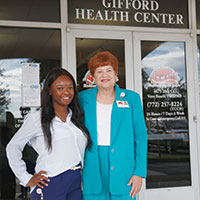 Treasure Coast Community Health opens in Gifford
STORY BY MICHELLE GENZ
Photo: Patient Advocate Janay Brown and CEO Vicki Soule

The waiting room was busy, the newly-minted staff ready to serve patients last week as Treasure Coast Community Health Care took charge of a revitalized, expanded Gifford Health Center.
That clinic, built in 2003 by the Indian River County Hospital District, becomes the eighth in TCCH's rapidly growing network.
As an unexpected benefit of the takeover of Gifford, all eight of Treasure Coast's low-cost clinics are now available at no cost to patients that qualify for Hospital District care.
Previously, the lowest-income patients of TCCH were asked to pay $5 to $25 toward their care, with most others paying on a sliding fee scale.
Because care at Gifford had always been free under the Health Department, which ran the clinic up until earlier this year, leaders of the expansion effort hoped to convince TCCH to waive fees for Hospital District-qualified patients.
With less than two weeks to opening day, the TCCH board of directors agreed to not only eliminate the nominal fee at Gifford, as well as sliding scale fees, but to reduce both types of fees for lower-income patients across the clinic system. It will also drop a separate charge for labs and other ancillary services, said TCCH's Vicki Soule.
In exchange, Soule asked the district to offset the system's revenue losses by increasing its reimbursement to TCCH for district-qualified patients.
"I'm proposing a collaborative approach," she told the board last month.
After only the briefest pushback by Trustee Michael Weiss at the Hospital District's August meeting, the board unanimously agreed to an increase, even though specific numbers had not been hashed out. The amount of the district's subsidy to TCCH was to be determined at a district budget meeting Sept. 3.
Supporters of the Gifford expansion appeared deeply impressed with TCCH's move to get the discounts in place by the health center's opening day.
"This is phenomenal," said Trustee Tracey Zudans, who sits on the project's advisory committee. "I haven't seen this quick of footwork in a long time."
The nominal fee – $5 for mental health care and $25 for medical care – had been imposed at the option of the TCCH board.
By federal law, patients who come to federally-subsidized, low-cost clinics like TCCH, and who earn 100 percent or less of the federal poverty guidelines, must be offered care at no charge. But the law allows clinic boards to impose the token fee if they believe patients should be invested in their care – having "skin in the game," as Soule puts it.
Other patients earning up to 200 percent of poverty guidelines pay on a sliding fee scale. For now, TCCH will waive those fees for district-approved patients earning up to 150 percent of poverty guidelines. Starting in October, when the district raises its income levels for qualification, TCCH clinics will waive sliding scale fees for families earning up to 200 percent of the poverty guidelines, making free healthcare available to more low-income residents.
In Florida, the federal poverty level for a family four is $25,100, so families with incomes up to $50,200 will qualify for free care.
From the start of the district's undertaking to revitalize and expand care at the Gifford Health Center, patient fees have been the subject of debate, with Trustee and Board Treasurer Allen Jones strongly advocating no-cost care.
Jones felt that any fee would be a departure from the free care offered by the Health Department. Some felt the imposition of a fee might add to existing tensions in Gifford over the departure of the Health Department, which was a popular provider in the community, potentially keeping patients away.
The hike in reimbursement, which taxpayers ultimately cover through the district, is expected to rise from $98 to around $153 per medical visit. Next year, TCCH anticipates adding 5,000 patients to the 24,000 it sees annually. Of those, 10,000 earn less than the federal poverty level.
"It's not going to be any more than what we paid the Health Department or what we're going to pay Whole Family Health Center (for per-patient reimbursement)," Trustee Karen Deigl pointed out at the district meeting, just prior to the board's "yes" vote.
The fact that all the system's clinics now will offer the same break in fees only made the vote sweeter for all involved.
"A rising tide lifts all boats," said TCCH's director, Vicki Soule. "I think it's terrific whenever we can remove barriers to care."
Gifford Health Center's formal opening will be celebrated Sept. 13 from 5:30 p.m. to 7 p.m. The public is invited.