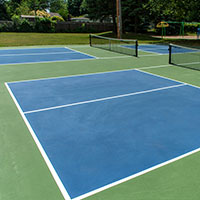 Vero pickleball club interested in building courts at Dodgertown
STORY BY RAY MCNULTY

With its ranks having swelled to more than 500 members, Vero Beach's largest pickleball club has outgrown the 12-court complex it leases from the city at Pocahontas Park.
The solution could be a move to Dodgertown – or, to be more precise, the former Dodgertown Golf Club property.
"That would be a dream come true," Pickleball University president Mari Colacino said. "Our members don't want to have to spread out over different sites. They want to stay together. The old Dodgertown golf course would be the perfect place."
County Commissioner Peter O'Bryan thinks so, too.
The county paid $2.4 million to purchase the 35-acre parcel from the city earlier this year, primarily because Major League Baseball, which now operates the Jackie Robinson Training Complex at the former Dodgertown complex, wanted an overflow parking area for marquee events at Holman Stadium.
But as O'Bryan put it: "We don't need all 35 acres for parking."
Pickleball University needs only two – preferably the two acres on the north end of the property, where it could refurbish the golf course's former clubhouse.
Colacino said two acres would be enough land for the privately funded, Vero Beach-based club to build as many as 18 courts, including two stadium courts, and provide parking for more than 150 vehicles.
To make Colacino's dream a reality, however, Pickleball University would need to negotiate a long-term lease with the county and raise the money necessary to build the courts without any county funding.
"That could work," O'Bryan said.
One potential obstacle could be getting approval from the city, which sold the property under an agreement that it would be used for only "passive recreation" – such as a neighborhood park.
In fact, the county already has begun prepping the property for a series of walking trails.
However, O'Bryan, who has served as Pickleball University's conduit to the County Commission, said he has had "very informal discussions with all five City Council members" and they've told him they were "relatively amenable to the idea."
O'Bryan said county commissioners also would insist that the pickleball club allow park-goers to use the rest-room facilities at the clubhouse.
"We'd have no problem with that," Colacino said.
Finally, O'Bryan said the county probably would not approve installing lights for night play, because of the residential neighborhood on the west side of 43rd Avenue.
Colacino said the club's 517 members – and the 50-plus visitors who drop in during Vero Beach's busy season – play almost exclusively during the daytime hours, especially mornings.
"We had to stop taking new members on June 1 because we just don't have enough courts to accommodate everybody," Colacino said. "Most of our members are retired, and they play every day. You don't need to have a game set up; you can just show up and play. It's very social.
"We have the 12 courts at Pocahontas Park, but six of them on the north side of the complex are in bad shape with cracks and bumps, and they need to be re-surfaced," she added. "We've raised over $140,000 and we have money allocated to fix the courts, because if we don't do something, we'll have no place to play.
"But more and more people are playing pickleball, and we really need more courts."
After Colacino made a presentation to the County Commission in March, commissioners authorized a study for a $450,000 pickleball complex at South County Park and approved spending $50,000 of that amount in the 2019-20 fiscal year for site design, construction plans and permitting.
Construction on complex with six to eight courts, which would be built with park impact-fee funds, could begin as soon as 2021-22 – but the project ranks low on the county's list of capital-improvement priorities.
While Colacino endorses the plan, she said it doesn't solve the club's problem – because it won't provide Pickleball University with a home.
"The county has been very cooperative and we support expanding facilities wherever we can," she said, "but if we re-opened our membership, we'd get to 650 in no time."
For that reason, Colacino and Pickleball University's board of directors also would welcome investors and entrepreneurs interested in building a private club, similar to local tennis clubs in town.