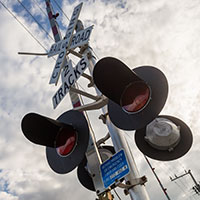 Virgin Trains won't start laying tracks here until summer
STORY BY GEORGE ANDREASSI

Virgin Trains USA has now postponed start of new track construction in Indian River County until next summer.
Virgin Trains also plans to install so many safety measures at its railroad crossings on the Treasure and Space coasts that train engineers would not be required to blow their warning horns.
The latest plans for higher-speed passenger rail service between Orlando and Miami were discussed Friday by the Treasure Coast Regional Planning Council, a group of 25 local government leaders.
"We know that the Indian River County portion of construction is delayed versus that that's happening in Palm Beach County," said Kim DeLaney, the council's director of strategic development and policy.
Virgin Trains plans to construct new tracks between West Palm Beach and Orlando to handle 34 passenger trains per day, which are projected to start running in summer 2022. Trains would travel up to 110 mph along the Treasure and Space coasts.
The company started providing service between Miami and West Palm Beach in May 2018. The trains operate from 5 a.m. until 11 p.m. at speeds of up to 79 mph.
Virgin Trains plans to upgrade the Florida East Coast Railway corridor from Miami to Cocoa and construct new elevated tracks along State Road 528/Beachline Expressway from Cocoa to Orlando International Airport. The trains would travel up to 125 mph on the SR 528 segment.
Virgin Trains has started construction along SR 528 between Cocoa and Orlando and in Palm Beach County north of its existing service area, but won't start building in Indian River County until summer 2020, DeLaney said.
Earlier this year, Indian River County and Vero Beach officials said Virgin Trains officials told them they anticipated starting construction by the end of this year.
"In checking with our city manager, he has indicated to me it's been approximately six months since he's had direct contact with Brightline," said Vero Beach City Councilwoman Laura Moss.
DeLaney said she expected Virgin Trains officials to get back in touch by the end of the year.
Virgin Trains may accelerate the timeline for developing a station in Fort Pierce or Stuart because of unexpectedly high projections for Treasure Coast ridership, DeLaney said. Cocoa also is in line for a station.
But only some of the 34 daily passenger trains would stop at the Treasure and Space coast stations, De-Laney said.
"Occasional trains, as it's been described, would be stopping at those other smaller market stations," De-Laney said.
In addition, Virgin Trains plans to install enough safety devices and warnings at Treasure and Space coast railroad crossings to meet Federal Railroad Administration requirements for "quiet zones" to be established by city and county governments, De-Laney said.
Essentially, the safety gates, center medians, flashing lights, alarm bells and warning signs at the crossings are considered so effective that train horns would not further deter motorists or pedestrians from getting onto the tracks, DeLaney said. "Blowing a horn in addition isn't going to make a difference."
The establishment of Virgin Trains passenger service between Orlando and Miami is a key component in the development of a passenger rail service in Florida's urban areas.
Long-range plans call for Virgin Trains to connect to Tri-Rail and South Florida Regional Transportation Authority commuter lines to enhance transit in Miami.
Plans also call for Virgin Trains to connect to the SunRail commuter line in Orlando and the passenger rail service planned between Orlando and Tampa.
Indian River County Commissioner Peter O'Bryan questioned whether Virgin Trains was moving from a planned passenger service toward a commuter service.
"Have they done a ridership study to show this is going to be feasible?" O'Bryan asked.
DeLaney said she would request a ridership study from Virgin Trains.
"We haven't been provided that information thus far," DeLaney said. "Lots of inquiring minds would like to know." Since starting service in South Florida, Virgin Trains and its predecessor companies have consistently fallen far short of both revenue and ridership goals.