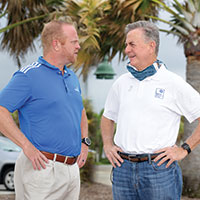 2 local banks capture $79 million to provide paychecks to workers here
STORY BY STEVEN M. THOMAS
Photo: CenterState Bank Executive VP Chris Bieber (left) and Marine Bank president and CEO Bill Penney.

CenterState Bank Executive VP Chris Bieber was in the middle of an interview with Vero Beach 32963 when the news came through.
Bieber saw a message pop up on one of his computer screens, looked at his watch and back at the screen. "It may be over," he said.
It was. The $350 billion Paycheck Protection Program created by the federal government to help small businesses weather the coronavirus storm by giving them money for payroll had run out of cash.
Luckily for Vero Beach, CenterState and another community bank – Marine Bank & Trust – had made sure businesses here got their fair share, securing almost $80 million in low-interest, forgivable loans for hundreds of local companies before the cash ran out.
Working from the pre-dawn hours till late at night during the 13 days the program was active, Marine Bank grabbed $32 million for its customers, according to bank president and CEO Bill Penney.
"We were able to get 230 loans approved," Penney said, noting that the loans went to "a microcosm of the local economy," from restaurants and retail shops to boat builders and white-collar firms.
"Individual loan amounts ranged from $6,000 to $3.2 million. More importantly, those loans covered 3,300 paychecks in the community."
"We've gotten nearly 300 loans approved," said Bieber, who worked a 10-hour day on Easter, reviewing and processing loan applications during an intense, nationwide scramble for rapidly diminishing funds. Those loans totaled more than $47 million – money that will go to Indian River County businesses to pay employee salaries, rent and a few other allowed expenses.
In a land rush atmosphere, half of Marine Bank's 60 employees were assigned to work on PPP loans, with human resources staff and tellers taking applications alongside loan officers. Penney said he saw emails sent as early as 4:30 a. m. and employees logging on to their home computers at 10:30 p.m. to continue working.
"It was hard to sleep with so much going on," Penney said on Friday, after the SBA closed its system. "I'd wake up in the middle of the night with my mind racing, thinking about what we still needed to do to get one of our customers approved." 
To grasp the scope of the bank's accomplishment, consider this: Somehow, during two hectic weeks in April, Penney and his staff were able to successfully process nearly twice as many business loans as the bank typically handles in a year.
"It was an amazing rally by our whole staff," Penney said.
The scene was similar at CenterState.
"Everyone at CenterState is working on this," Bieber said on Thursday. "If you are not part of the retail staff, handling customers daily banking needs at the drive-through, you are part of this. If you were in the appraisal department before, you are helping process loan docs now.
"I come in early and go through a color-coded online list of all our pending applications to make sure they are moving ahead. If you were at point A yesterday, you should be at point B today. If you aren't, I am calling you at 7 o'clock in the morning and telling you to get out of bed and get us the documents we need.
"This is the hardest I have worked in 20 years. The phone doesn't stop ringing. The texts don't stop coming. I guess it's payback for those afternoons when I left early to play golf."
The banks achieved their exceptional loan production numbers in a thoroughly chaotic situation wherein the SBA was continually revising rules and changing documentation requirements.
The Cares Act, which included the Paycheck Protection Program, was signed into law on Friday, March 27, but there were few details about how loans would be documented and approved, so banks couldn't take applications at that time, Bieber and Penney say.
It wasn't until a week later, on Friday, April 3, that the SBA put out its approved application form and requirements.
Bieber said CenterState took applications hand over fist all morning that day only to have the SBA issue a revised application in the afternoon.
"Monday morning, I had to email everyone who had applied with us and tell them they needed to redo the application."
"The rollout was clunky," says Penney. "SBA typically does $25-to-$28 billion in loans a year. They did more than 10 times that in two weeks. Rules were late coming down and kept changing.
"We didn't get our SBA login password to enter loans in the system until the middle of the week (April 8), and we didn't get clear guidance on what loan documents could be used until Thursday (April 9)."
The banks are funding the loans directly. On Friday, Penney said about 75 percent of Marine Bank's loans were funded and he expected the remaining customers to get their money this week.
"We are doing the funding," Bieber said. "At some point the government will reimburse us, but I don't know when that will be. Maybe when the loans are forgiven."
Both bankers said their banks are well capitalized and can handle the short-term outflow of cash.
The PPP program's 1 percent interest rate is too low for banks to make money by holding the loans long-term. Instead they will make money from loan origination fees.
The loans are meant to cover two months of payroll. After the two-month period, if a borrower demonstrates they used at least 75 percent of the SBA money to pay employees, the loan will be forgiven, essentially converting to a grant.
Now that they are through the most stressful period and beginning to decompress, both men said they are immensely proud of their staffs and feel a deep sense of personal satisfaction at having been able to help so many Indian River County businesses.
"It is a very successful program that is hugely important to the local business community," said Penney.
Both bankers expressed sharp regret at the plight of customers who didn't get in under the wire.
"We had 230 approved but were still working on 40 more that came in later in the process," Penney said. "It breaks my heart. These people are customers and friends. We did our best for them but just couldn't get it done before the money ran out.
"We are finishing up those applications so they will be ready if and when the program gets funded again."
Congress was expected to vote on additional billions in PPP funding sometime this week. If the money is approved, both banks will go back into high gear, trying to get their customers approved and funded.