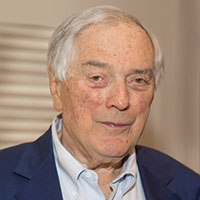 Bob McCabe, 80: Philanthropist who was 'always fun'
STORY BY MARY SCHENKEL
Photo of Robert (Bob) McCabe

Robert (Bob) Frederick McCabe, 80, an investment banker and venture capitalist who passed away last week, was half of one of Vero's most philanthropic couples – a jaunty, jovial presence who showed up with wife Eleonora (Ellie) Wahlstrom McCabe at innumerable charity fundraisers where his warmth, humor and generosity endeared him to everyone he met. 
Local physician Dr. Michaela Scott and her late husband Clinton introduced the couple in 1984. 
"He was a good friend of my husband's in Boca Raton; they knew each other quite well," said Dr. Scott. "We planned a dinner and introduced him to Ellie. It clicked very quickly; they dated immediately after that." 
The dates were a success and McCabe moved to Vero Beach to be closer to Ellie. They married nine months after that first dinner with the Scotts.
"As far as personalities go, we were 'A' and 'Z' in the alphabet; I have to say that," said Ellie McCabe. "I'm very emotional, he was very pragmatic. But we were a good team because we filled in the blanks for the other person. He took very good care of me and I know I was No. 1. He was a good husband and I'm going to miss him very much."
Although Ellie McCabe often was the face of the couple's philanthropic endeavors, Bob McCabe's presence was always there, providing advice and guidance. Between them they supported countless charities as individuals and through the multimillion-dollar donations of the Robert F. and Eleonora W. McCabe Foundation, prior to its dissolution in 2017. 
"In all my endeavors, Bob was very, very supportive. He kept me out of trouble if I was going to do something that he didn't think would work," Ellie McCabe explained. "He was the type that I could talk over everything with him. If I was determined to do something, he would guide me and help me." 
As a couple, the McCabes were major donors to John's Island Foundation and JI Community Service League, Vero Beach Museum of Art, Riverside Theatre and VNA, and they were founding members of the Indian River Community Foundation.
Because of Ellie's commitment to mental health initiatives, their foundation provided millions of dollars to the University of Florida Center for Psychiatry and Addition Medicine, the Mental Health Association and Mental Health Collaborative.
"Ellie McCabe and the McCabe Foundation were only able to do all the things we did for the community because of Bob McCabe," said Lenora Ritchie, who served as executive director of the foundation.  "He never got the credit, but he was always there supporting every project with strategic advice. I don't know that people realize that. He was such a source of advice, guidance and strategic direction, that he gave Ellie the strength to do all that." 
A few years after earning a business degree at Syracuse University in 1962, McCabe began his South Florida business career at Boca Raton National Bank, eventually becoming an investment banker and venture capitalist, backing Gulfstream Media Group among other enterprises.
"I met Bob about 1974. For reasons I'll never understand, he liked me," said Bernie McCormick, former owner/publisher of Gulfstream Media Group, which publishes Gold Coast Magazine and other glossy, luxury-oriented lifestyle magazines in South Florida. McCabe served as Gulfstream board chairman for many years, retiring just last year.
After McCabe moved to Vero and he and Ellie settled in John's Island, McCormick frequently visited them, joking that he spent so much time at the club as a guest of McCabe's that he felt like a member. Of his last visit, about a month ago, McCormick said, "He was home-bound but he never lost his sense of humor – he was always fun." 
McCabe's influence helped to attract a powerhouse of elite shareholders to Gulfstream. McCormick said when a bank president once agreed to give them an enormous loan, it was clear that "he wasn't lending the money to us; he was lending it to a friend of Bob McCabe."
McCabe founded the Bankers' Club in Boca and McCormick said, "The joke was that Bob had a microphone under every table in that club because he knew everything that was going on. If anybody was anybody in Boca, Bob knew them, and they knew Bob." 
McCormick said McCabe had garnered some of his skills as "people chemist" at the famed Thousand Islands Club in New York, where he worked during his college summers. "He was always very comfortable with the wealthiest people around," said McCormick. "He realized they were just like the rest of us except they had more money. The interesting thing about Bob is that people just liked him. They liked his casual way. Even though he wound up quite successful, he was never a snobby guy at all." 
A member of many boards in Vero and elsewhere, McCabe provided valuable expertise to the Environmental Learning Center Foundation and the Humane Society of Vero Beach & Indian River County Foundation.
"My soft spot is with my four-legged friends," Bob McCabe once told Vero Beach 32963, referencing all dogs, but especially the McCabes' two pets, Mollie and Brandi. 
"Over the years, he was a fantastic supporter," said Bill Hudson, Human Society Foundation board treasurer. "His concept was that friendly pets were nice to have around; they don't talk back and they don't tell you what to wear."
Hudson said while he resisted McCabe's counsel to get a dog, he is currently fostering some cats. 
"Even when very ill, he went online and got cat toys for the cats we're fostering," said Hudson.
"He was so thoughtful, even when he was feeling terrible. He also somehow decided I should have some original book about Saratoga. So, he managed to get this book delivered from some antique store in London and had it shipped over. This was, basically about two or three weeks before he passed away. He presented me with this book with all these beautiful photographs of Saratoga. He was just a wonderful guy."
McCabe's friendships were many and long-lasting. 
"Bob and I go back about 35 years," said Dr. Hugh McCrystal, who was chief of staff at Indian River Medical Center (now Cleveland Clinic) for many years. "SOB – Sweet Old Bob – that's what he called himself. He was a special man; he's the last of a generation."
In addition to having weekly dinners together, McCrystal said he and wife Ann Marie frequently traveled with the McCabes to their summer home, Tara by the Lake in Saratoga Springs, New York, and to Europe where, McCrystal said, "we would go out to dinner and if the wait staff took too long between courses, Bob and I would go out the back door to a neighborhood bar for a drink. That happened many times on our trips."
McCabe and McCrystal were also members of the Franklin Society, which former member Fay Vincent described as a small men's group formed about 30 years ago that had no purpose other than meeting for lunch four times a year for goodwill and companionship.
Recalling McCabe's "Bob-isms" and humor, Vincent added, "He was full of anecdotes – about half of them repeatable. He was a very glorious Irishman. I think Ireland was really in his roots and it was in his heart; it was never far from his enjoyment." 
Vincent remembers that McCabe, who he called a "delightful companion," was always helpful in coming up with good speakers for the lunches. "He knew everybody and was involved in every charity and good-guy organization in town. I knew nobody; he and Hugh literally knew everybody in town."
"He was a friend to everybody," said Ellie McCabe. "Everybody was his new best friend."