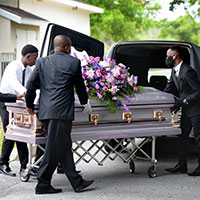 County's first death from coronavirus a 'good, sweet lady'
STORY BY RAY MCNULTY
Photo: Funeral of Adele Jeantinor.

Adele Jeantinor was unable to celebrate her 89th birthday. Instead, she was fighting for her life at Cleveland Clinic Indian River Hospital, where she had tested positive for the coronavirus and was diagnosed with pneumonia.
Two days later, she was dead.
Jeantinor's April 8 death is believed to have been the first connected to COVID-19 in Indian River County – something her family didn't know until this past Friday night, when her 36-year-old granddaughter, Idalia Similien, received a phone call from Vero Beach 32963.
"The doctor called on April 3 and told me she had tested positive for COVID, but after she passed, nobody told us she was the first one here," Similien said. "We didn't see it anywhere."
Jeantinor, who lived with Similien and her husband in their South County home, had been admitted to area hospitals three times previously with respiratory problems related to years of smoking cigarettes before she moved from Haiti to Florida in 2000.
As recently as three years ago, Jeantinor spent three nights in what was then Indian River Medical Center.
"She had the same symptoms then, and they kept her for three or four days," said Similien, who is not sure the coronavirus is what killed her grandmother. "She also went to the hospital twice in the four or five years she lived in Fort Pierce, before moving to Vero Beach 15 years ago.
"This time, she went to the hospital and didn't make it out," she added. "They said it was the virus, but I don't think so. The hospital never showed me any test results, and nobody in my family is sick, so I don't know. I need to see her medical records."
Similien said she would try to get them from the hospital this week.
All Similien knew last weekend was that Jeantinor went to the hospital March 31 because she had a fever and difficulty breathing. Though she wasn't coughing, her blood pressure was high and her oxygen levels were low. She was diagnosed with pneumonia.
Jeantinor tested positive for COVID-19 and died six days after her test results came back.
"She was starting to feel better," Similien said. "Then, on her birthday, she took a turn for the worse. She was struggling to breathe."
Privacy laws prevent local health officials from disclosing the names of people who test positive for the coronavirus or die from related causes. According to the Florida Department of Health, the county's first victim was an 88-year-old woman with no travel history and no known contact with an infected person.
Jeantinor was 88 when she was admitted to the hospital and tested for the virus.
More than two dozen mourners attended Jeantinor's funeral Saturday morning in Vero Beach – the services were entirely in Creole, her native tongue – then proceeded to a rain-soaked, wind-swept Riverview Memorial Park in Fort Pierce for her burial.
According to Similien, Jeantinor spent most of her adult years as a farmer in Haiti, where she grew beans, potatoes and other vegetables. After her husband died, she immigrated to the United States to live with her daughter in Fort Pierce and eventually became a citizen.
In Fort Pierce, Jeantinor helped care for her grandchildren, including Similien.
"I was living there, too, because my mother died when I was three months old," Similien said. "So she wasn't just my grandmother. She was like a second mother to me, too. She raised me."
Later, Jeantinor followed Similien to Vero Beach and helped raise her great-grandchildren, caring for them while her granddaughter was at work. But she never lost her love for farming, continuing to grow beans in the backyard.
"This hurts me so bad because she was such a good, sweet lady," Similien said. "She was my best friend. She was everybody's best friend. She was very special.
"I miss her so much."