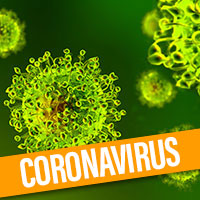 COVID-19 infection hits two more Vero elder care facilities
STORY BY MICHELLE GENZ

The novel coronavirus has now spread to two additional Vero Beach long-term care facilities – this time to Palm Garden, the largest and one of the worst-ranked nursing homes in Indian River County, and to Sonata Assisted Living.
Residents and their family members at Palm Garden were reportedly notified of the infection last weekend before the nursing home showed up on the state's list of elder care facilities with someone who had tested positive for COVID-19. Though the state did not say whether the case was a resident or staff member, a person connected with the facility said it was a resident.
Messages via email and voicemail to Palm Garden manager Edwin Rojas got no response, nor did a message left with a receptionist.
Sonata, meantime, reported Monday night that "a resident who had spent an extended time out of the community was proactively tested recently for COVID-19 and unfortunately the results returned positive. The resident and family have been notified and the resident has been quarantined. "Staff are directing all other residents to stay in their apartments, to wear a face mask when out of their apartments and encouraging safe social distancing," a Sonata spokesperson said.
At press time, only one other long-term care facility in the county was on the state's COVID-19 list. HarborChase, an assisted living facility on Indian River Boulevard, has had at least seven COVID-19 cases. Four of those people have died.
Florida's Agency for Health Care Administration shows Palm Garden is currently operating under a conditional license and is on the state's watch list, though the link to that watch list was inexplicably unavailable at press time Monday.
Early last year, Palm Garden – part of a Sarasota-based 15-facility chain with 189 beds, most of them in double rooms – was fined $126,000 for failure to substantially comply with Medicare and Medicaid requirements. That fine was reduced to $81,800 when Palm Garden chose not to appeal the fine.
An inspection report had revealed inadequate infection control, including unsanitary environments and insufficient hand hygiene.
Then in November 2019, Palm Garden was cited by AHCA inspectors for failure to provide and implement an infection prevention and control program. That deficiency was deemed corrected a month later. On March 27, 2020, Palm Garden underwent a special inspection for infection control. No deficiencies were cited on the AHCA report.
Palm Garden earned only one star out of a possible five on Medicare's most recent Nursing Home Compare.