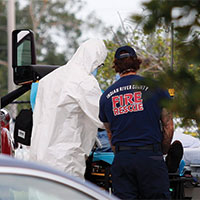 Did HarborChase conceal COVID-19 infections?
STORY BY MICHELLE GENZ
Photo: Paramedics prepare to transport patient to Cleveland Clinic hospital.

The novel coronavirus had not even come to Vero Beach when those with relatives in long-term care facilities began bracing for the worst.
"Oh, my gosh, I had sleepless nights even back in February. I started thinking, oh, God, I just can't handle this," said one island resident with a loved one in HarborChase, an assisted living facility with a memory care unit on Indian River Boulevard.
By the second week of April, her days were a waking nightmare as HarborChase became the site of a COVID-19 cluster. What's worse, no one at the facility had told her.
Just how bad a cluster was publicly confirmed over the weekend when Gov. Ron DeSantis finally caved to pressure from a growing group of media outlets threatening legal action, and ordered staff to release the names of Florida's nursing homes and assisted living facilities where residents had tested positive for COVID-19.
In Indian River County, it turned out all seven long-term care cases were at HarborChase. Three of those people have died.
"I'm in a state of shock that it's actually there," said the island resident, who wants to remain anonymous. "I'm outraged that I wasn't told from the get-go, and that it wasn't a voluntary thing from them, instead of me having to hear it from somebody else and having to call and get confirmation."
Until the moment the list of facilities went online last weekend, the woman did not know the extent of the outbreak at HarborChase.
"Why all the secrecy?" the woman demanded. "It makes me angry because I believe disclosure could save lives."
As far back as March 11, when COVID-19 was declared a pandemic, signs were up on senior living check-in desks asking visitors not to enter if they had a cough or fever or had traveled to certain countries.
As March rolled into April, cases of the infection started popping up in Vero Beach.
Sometime around April 10, the Vero  resident heard from one of her loved one's medical professionals – a person not connected with HarborChase – that HarborChase had three confirmed COVID-19 cases.
That was the first she had heard of any cases there, she said.
"From my perspective they were 'breasting their cards' and doing the community a huge disservice," the woman said. "They potentially have blood on their hands, as far as I'm concerned, by not getting it out there."
It turns out, on April 10, HarborChase chose to notify only families of residents in the memory care unit that there was a confirmed COVID-19 positive person, according to David Dodson, vice president of marketing of parent company HRA.
The company, headquartered in Vero's downtown, has 38 long-term care facilities around the country, including Regency Park in Vero.
HarborChase, one of 25 long-term care facilities in the county, has capacity for 100 residents including in memory care, according to the state.
Dodson claimed late Monday that April 10 was the date of HarborChase's first confirmed case of COVID-19, but state records show the first case was confirmed April 7, with three cases confirmed by April 10.
Dodson's statement came after more than a week of email and voicemail messages left by Vero Beach 32963.
"The executive director and her team called all families or responsible parties for our memory care residents on April 10, upon positive confirmation of the first case of COVID-19, and followed with an update several days later when we received confirmation of additional cases," Dodson said via email.
"We also sent a recorded message to our assisted living residents' families to inform them that there were cases of the virus in the community, all of which were confined to our separate, secured Memory Care neighborhood."
The woman with the loved one in assisted living said she never got such a message, and Dodson would not say the date that recording went out.
Informing nursing home and assisted care facility residents and families that there is confirmed COVID-19 in the building is not optional; since the start of the pandemic, it has been required by the Agency for Health Care Administration (AHCA).
Asked if a memory care unit within an assisted living facility exempted management from informing families of all residents, an AHCA spokesman said simply, "All long-term care providers should be adhering to the Agency's guidance on the notification of families, representatives and staff of confirmed COVID-19 cases."
DeSantis may still face a legal battle from the media for continued secrecy: He has refused to spell out how many cases and deaths are in each facility, a critical piece for concerned families, to say nothing of residents at risk.
What DeSantis did say in his brief Saturday press conference was that he wanted specifically to avoid a scenario in which a family or resident wasn't told about COVID-19 being in their facility – which is exactly what happened to the Vero woman and her loved one.
When the woman called HarborChase around April 10, to confirm what she'd heard from her loved one's caregiver, the executive director, Gloria Tausch, confirmed the fact reluctantly, the woman said.
Tausch excused the lack of disclosure by claiming the cases were in the memory care unit, and not in the assisted living section, the woman recalled.
"That's still in the facility," she countered.
She pressed Tausch for the number of cases – she'd already been told the number by the outside health care provider – but Tausch at first mentioned only one, a resident.
When the woman asked about staff members, Tausch admitted, "Well, there've been a couple of those."
At that point, the woman's distrust came to the fore. "I asked if those were the real numbers. She was very definitely uncomfortable with a direct question and giving me a straight answer."
The robo-call voicemail message Dodson mentioned was a familiar form of communication from HarborChase. The woman said she got such calls two or three times a week, addressing various matters. But she never got one that announced COVID-19 was at HarborChase, she said.
"I'd get this nice little upbeat blast, a recorded phone message, that comes to me from Gloria in a very positive voice, like, 'Hey! We're doing just great here. Everybody's happy. We're doing everything we can to keep them safe and active,'" the island woman said.
"At Easter, it was, 'We're going to have people dressing as Easter bunnies hopping down the halls handing out candy.' All this stuff, but there's not the first mention of COVID-19."
Easter was April 8, a day after HarborChase got its first positive COVID-19.
By late last week, when the woman spoke again with Tausch about her loved one, the number of HarborChase cases reported to the state had doubled to six. Yet Tausch said nothing about the spread.
"There is no shame in this," said the woman. "This is a horrible thing that we're all exposed to, and there is no way that any one of us can be 100 percent sure, even with the multitude of precautions we take, that we're not going to get it.
"So, it's not a commentary on them that it crept into their facility. But certainly, it is incumbent upon them to disclose that we have had a problem and come right out with it the day they know about it."