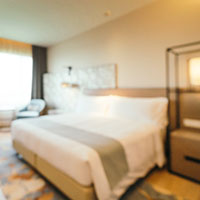 Hotel space offered to hospital if extra rooms needed
STORY BY MICHELLE GENZ

Keith Kite was mowing his lawn when an idea came to him: With fears of hospitals reaching capacity in the COVID-19 pandemic, why not offer the use of three hotels he manages to Cleveland Clinic Indian River, should they need space for patients or caregivers?
Last week, Kite emailed the hospital president Dr. Greg Rosencrance; Jason Brown, county administrator; and Miranda Hawker, head of the county's Health Department.
"We wish to extend our hotel properties to you in your planning and response to COVID-19 here in Indian River County," Kite proposed.
"We have three properties here in the county with very close proximity to Cleveland Clinic that are all well suited for both COVID-19 and non-COVID-19 patients, patient friends or relatives, caregivers, and first responders," he wrote.
By Friday morning, according to Kite, hospital officials were supposed to be reviewing the concept. "Dr. Rosencrance replied to me and said they were very, very appreciative and they were going to put it in their logistical capability."
Monday, he hadn't heard any update and assumed the idea was still under consideration.
Cleveland Clinic Indian River did not respond to requests for comment by press time.
Star Suites Hotel, Springhill Suites and Hampton Inn and Suites near Miracle Mile are themselves victims of the COVID-19 pandemic. Occupancy rates at Hampton Inn dropped from 95 percent to 30 percent, despite rates that fell commensurately – from $280 a night to between $100 to $149 a night, in what for Kite is peak season.
If Cleveland Clinic were to use the facilities, Kite would agree to operate at a per diem rate set by the government, he said.
"The way I see it, our rates are so reduced right now, I might as well," said Kite.
Star Suites, owned by Riverside Theatre, opened exactly a year ago on Aviation Boulevard near Dodgertown to house casts and crews during its season of plays – normally October through April. Kite says it was full of actors until Riverside Theatre canceled the balance of its season in mid-March, leaving the hotel essentially vacant.
"We closed Star Suites when all the people had to leave," he said. "It was full for the next six weeks."
The Hampton Inn at Miracle Mile, which opened in 2015 and is affiliated with Hilton, became the first hotel in downtown Vero and has appealed to visitors
Springhill Suites on Indian River Boulevard, part of the Marriott brand, was built in 2009. It is the closest of the three to the hospital, and it is suffering from the same decline all tourist-related destinations are going through.
Instead, it is hosting people wanting to be near their loved ones in the hospital, or others in quarantine who don't want to infect their families, including caregivers from the hospital, according to Kite. "Some of the nurses there right now don't want to risk infecting their families," he said.
Star Suites, which is managed by Kite, has 60 one-bedroom suites with kitchens that all open on an interior courtyard. With that enclosed environment, Kite believes it would be an ideal setting for COVID-19-positive patients who are recovering but not in need of the acute care of a hospital.
The hotel is typically occupied for six weeks at a time by the theater's actors, many coming from New York, along with production crews. In the theater's off season, the hotel is used by visitors to Dodgertown next door, now closed due to the pandemic.
SpringHill Suites, along with the Hampton Inn, may be better suited for non-COVID-19 patients if the hospital temporarily took it over, Kite says. He envisions its 83 rooms for self-isolating patients who may have been exposed but are not ill, as well as family members of patients in the hospital. "They're there to check on loved ones and they want to be close," Kite says.
Hampton Inn, at 90 rooms, is the largest of the three properties. There, "we have the ability to house non-COVID-19 patients, caregivers, first responders and visitors as needed," Kite wrote Rosencrance.
"All three properties are operating under the latest guidelines of the CDC as well as strict sanitary and cleanliness guidelines of Marriott, Hilton and our internal controls," wrote Kite.
"All properties have consistently earned the highest ratings in cleanliness through their (quality assurance and quality control) programs.
"We stand ready to assist you in your planning and needs during this unprecedented health crisis," Kite added.
Kite, a graduate of University of Florida, works with his son Kollin in commercial real estate. He is facing the pandemic while grieving his brother, Kelly Kite Sr., a founding member of Quail Valley Club who died in late January in the Dominican Republic. Kite called the loss "a surreal experience."
He's also thinking of his employees. "Obviously it's extremely heartbreaking to lay off people," he said of the Star Suites closing. "I furloughed them for 30 days to try to find a way to help them."