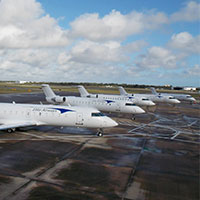 Is Elite Airways hoping to resume Vero flights?
STORY BY RAY MCNULTY

As of Monday morning, Elite Airways' ticketing website was still accepting bookings for flights into and out of Vero Beach from May through the end of the year, despite the City Council's decision earlier this month to terminate its airport-usage agreement with the Maine-based carrier, which owes the city $35,000 in overdue fees.
Does that mean the airline, which provided commercial passenger service at Vero Beach Regional Airport for the past 3 ½ years, might try to reconcile with the city, pay its bill and negotiate a new contract?
Elite President and CEO John Pearsall, whose last-gasp offer to wire the funds to cover the airline's debt was rebuffed by the council at the April 7 meeting where the Council voted to oust Elite, refused to comment.
However, City Manager Monte Falls did not rule out such a scenario.
"If Elite sent us a check and asked to address the City Council, I'd certainly talk to the council members about it," Falls said Sunday. "They'd need to make a good-faith effort, which starts with paying what they owe us, but we could get it on the agenda, probably as soon as the May 5 meeting.
"To this point, Elite hasn't paid us anything, and we haven't seen any indication that they want to come back," he added. "But if they do, the opportunity would be there for them to try."
Vice Mayor Laura Moss, who along with Councilman Rey Neville opposed terminating the Elite deal, said she would welcome such an effort.
"My position hasn't changed," she said. "I would be in favor of resuming our negotiations."
Falls said the city and airline would need to draw up a new agreement, because the council – Mayor Tony Young joined councilmen Joe Graves and Robbie Brackett in voting to oust Elite – terminated the contract signed in January.
The city already has been granted a three-year waiver from the Florida Department of Transportation, which, because Elite's enplanements had exceeded 10,000 last year, was planning to reclassify our airport from "general aviation" to "commercial – a change that would've cost Vero Beach millions of dollars in state funding.
At the time of the City Council's termination vote, however, Elite had grounded all Vero Beach flights through the end of the month in an effort to stop the spread of the coronavirus from the New York metropolitan area, where it operates out of Newark, New Jersey's Liberty International Airport.
If Elite makes no further effort to repair its damaged relationship with the city, outgoing Airport Director Eric Menger said he believes commercial passenger service will eventually return, despite a messy ending with Elite.
"A lot of people think the City Council's decision to terminate Elite will have a negative impact on any efforts to bring in another airline, but I don't think that is necessarily true," said Menger, who plans to retire in June after running the city's airport for the past 24 years.
"I talk to a lot of people in the airline industry and, since that decision, nobody I've talked to has said, 'That's going to hurt you,'" he continued. "The people who run airlines know some airlines fail for reasons that have nothing to do with the community.
"Any airline seriously considering Vero Beach will look at the bigger picture and see what happened and why," he added. "I think they'll see that we were an excellent partner for Elite, and they'll see that Elite made money here – that the community wanted the service and supported it.
"So, while you never want to lose an airline, it's not a death knell, either."
Menger said he signed non-disclosure agreements that prohibit him from publicly discussing the specific airlines that have inquired about adding Vero Beach to their route maps.
Airport sources, though, said at least two airlines have shown more than passing interest in adding Vero Beach to their networks the past three years, and that both have been monitoring the market, which went 20 years without commercial passenger service until Elite's arrival in December 2015.
One of those airlines, Allegiant Air, was serious enough for its president to visit Vero Beach and tour the airport, but its parent company has been investing heavily in its planned Sunseeker resort in Port Charlotte.
"There was a lot of promise there," now-retired city manager Jim O'Connor said. "For a while, I thought we were close."
More recently, the sources said, Vero Beach has appeared on the radar of Breeze Airways, the Utah-based airline launched by Jet Blue founder David Neeleman and expected to begin service in the eastern half of the U.S. next year.
Menger said what will matter most to any potential airline partner is that the city's airport is Federal Aviation Administration-approved for commercial flights, the terminal building can accommodate its operations and the necessary Transportation Security Administration service is available.
"If we want commercial airline service when the airline industry comes back from this pandemic, there will be another opportunity," Menger said. "I don't know when that will be, or which airline – or airlines – it might be, but someone on the Treasure Coast eventually is going to fill that demand.
"Vero Beach has the only airport that is ready right now."