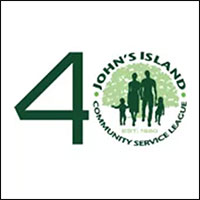 John's Island service league issues $200,000 challenge grant to raise money for COVID-19 fund
STORY BY MARY SCHENKEL

The John's Island Community Service League has issued a $200,000 Challenge Grant to funding organizations to help increase the United Way of Indian River County's COVID-19 Community Response Fund. Donations to the fund, which was established on March 17, will be matched on a one-to-one basis through June 15.
"We believe the United Way's COVID-19 Community Response Fund is the best way to quickly help those who will be most affected in our community, and we believe this matching challenge will help bring in additional funds," said Hope Woodhouse, JICSL board president.  "We thought that a challenge grant to the other umbrella groups would be a good way to get everybody putting money into the COVID Fund." 
The Challenge Grant encourages donations from members of the Funders Forum, which includes umbrella groups such as Quail Valley Charities, Grand Harbor Community Outreach, the Indian River Club's Head, Heart and Hands, Impact 100 and the Indian River Community Foundation, as well as from such benevolent organizations as Rotary and Exchange Clubs, the Junior League and other community groups. 
"Right now, we can turn the Service League's $200,000 into $400,000 if we generate some buzz in the funding community," said Meredith Egan, United Way COO.
The COVID-19 Community Response Fund has already raised $668,000, but the needs are great and the crisis ongoing.
"At our league board meeting, we initially were just going to put more money into the fund," said Woodhouse.  "But then somebody said, 'Shouldn't we use this as an opportunity to get all the communities that have umbrella funds involved?' So that was the reason it was done as a matching grant. Some of these organizations have already given money; now we're just trying to get that next amount."
Woodhouse added that the Service League has always had a Contingency Fund, precisely for situations like this.
"We've always thought that the Contingency Fund would be used in the event of a hurricane. This is essentially the equivalent of a hurricane for Vero," said Woodhouse.
A United Way Unmet Needs Committee meets weekly to prioritize COVID-19 Fund distribution allocations.  As of April 17, the committee had distributed $408,100 to local agencies, primarily focused on urgent needs. 
Distributions are made to United Way Partner agencies, which have experience working with residents in need, to pay for food, rent and utilities. Agencies have included the Treasure Coast Food Bank, United Against Poverty, Treasure Coast Homeless Services Council, and the Senior Resource Association.
Rather than giving money to individual nonprofits, Woodhouse said, "I think it makes it much more efficient and with better oversight to have one party, [the United Way], following up with all of the different agencies."
"From the ALICE (Asset Limited, Income Constrained, Employed) Report, we know that 51 percent of our community was already struggling to pay bills prior to this crisis. With layoffs and people's hours being cut short, that number has skyrocketed," said Egan.
The most recent ALICE report, released on Feb. 6, 2019, indicated that between 2010 and 2016, the number of low-income workers struggling paycheck-to-paycheck grew by 13 percent.
"They really can't get through this economic turmoil without help.  Missing one day of work, much less weeks work – rent, utilities and food become their highest priorities," said Egan.
The crisis has been made even more difficult for low-income workers, who generally have no savings to draw from, as unemployment offices throughout the state are now closed, said Egan.
"That's one of the challenges for people trying to file unemployment," said Egan. "If you're already under-resourced and you don't have a computer at home or you don't have a printer to print out the paper application, and you can't go to the library, it creates this hamster wheel of issues and barriers."
The United Way has pledged an additional $50,000 from its emergency funds and is underwriting all associated costs of the COVID-19 Community Response Fund so that 100 percent of donations will directly to groups helping people in need.
For more information about the fund and distributions already made, visit www.unitedwayirc.org/ResponseFund.