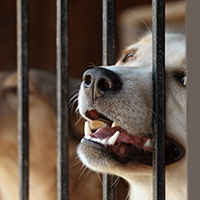 Pet shelters prepare for possible influx of animals if owners fall ill
STORY BY SAMANTHA ROHLFING BAITA

Indian River County Animal Control and local animal shelters are preparing for a possible influx of dogs and cats that could come if pet owners become too ill to care for their animals.
The Humane Society of Vero Beach, H.A.L.O. No-Kill Rescue in Sebastian, and the For the Love of Paws shelter in Fellsmere said they have not seen a big uptick in animals coming into their facilities, but all of them are thinking ahead in case a surge comes.
County Animal Control Manager Jason Ogilvie said his department has not yet seen an increase in calls either but is ready. "We have the equipment and we have the suits. We are prepared," he told Vero Beach 32963.
For the Love of Paws director Ted Pankiewicz said he has seen a significant increase in requests for his organization's Meals on Wheels service, which provides pet food delivery, as senior pet owners experience the coronavirus lockdown and comply with quarantine directives. 
The Humane Society and Halo have limited the inflow of dogs and cats, and are working hard to adopt out or find foster homes for as many animals as possible to open up and preserve shelter space for "the most vulnerable animals which are yet to come," according Humane Society community relations specialist Mindy Miller.
"My biggest concern is that our community has a significant population of seniors, and also high poverty areas," said Humane Society executive director Kate Meghji.
"We have been preparing for several weeks to ensure we have the appropriate space to take care of pets that come from homes where their owners are too ill to care for them. We have consolidated all of our shelter pets into one of our two buildings and are keeping the other empty in preparation."
Dogs and cats that are "in distress or need" may still be surrendered for non-COVID-19 reasons but other animals will be refused for the duration of the pandemic crisis.
Miller said the community's response to the Humane Society's call for pet foster homes has been "incredible."
"We currently have 67 animals being fostered, and we are down to 43 animals in the shelter," Miller said Monday.
Animals can still be adopted as well as fostered, but that is a more involved process and some animals are not eligible for adoption because of medical conditions or other reasons, which makes the push for foster care a good short-term remedy.
Anyone who wants to adopt or foster an animal can check out available dogs and cats on the shelters' websites and then call to make an appointment. 
The Humane Society conducts potential forever-family meet-and-greets outside its headquarters at 6230 77th St. between 11 a.m. and 3 p.m.
H.A.L.O.'s adoptable residents meet their potential forever families "in the parking lot, one family at a time," said Allyson Bootes, director of development at the north county shelter located at 710 Jackson St. in Sebastian.
"These dogs need human contact."