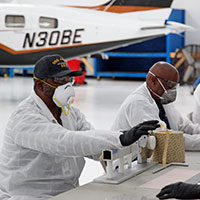 Piper Aircraft steps up to manufacture face shields needed by Cleveland Clinic
STORY BY RAY MCNULTY
Photo: Piper employees work together to create face shields for medical workers at Cleveland Clinic Indian River Hospital.

Piper Aircraft executives already were discussing ways the Vero Beach-based company might be able to ease the shortage of personal protective equipment needed by local healthcare workers during the coronavirus pandemic when the call came from Cleveland Clinic Indian River Hospital President Greg Rosencrance.
He wanted their help.
"Funny you should call," Piper President and CEO Simon Caldecott told him last week. "We're working on some- thing right now – a prototype for a face shield."
The prototype, designed by Piper's engineering team, was built using off-the-shelf production materials, such as sheets of clear plastic, industrial tape, foam and elastic. The face shield then was sent to the hospital for evaluation and approval by medical technicians, who made sure the protective device met federal Centers for Disease Control standards.
Before the week was through, Piper had assigned a team of workers to a separate manufacturing line at its local factory and begun mass-producing the shields, the first 2,000 of which were scheduled to be delivered to the hospital earlier this week.
"These face shields can be worn anytime protective eyewear is appropriate," Rosencrance said. "They are easy to clean, reusable, fully protect the face and help preserve the mask worn underneath from becoming soiled, and limit direct exposure."
Piper spokeswoman Jackie Carlon said the line has the capacity to make more than 1,000 shields per day and that the company might manufacture as many as 50,000 of them, if it can obtain the additional materials needed from its wholesale suppliers.
"Cleveland Clinic initially asked for 10,000 for the hospital here, but they have inquired about getting 50,000 to use at hospitals throughout their network," Carlon said. "I guess once word got out that we were doing this, everybody wants them."
Carlon said the shield manufacturing "really isn't impacting our aircraft production schedule" because the project requires only a small team or workers, adding that Cleveland Clinic is paying Piper only a "nominal fee" for the equipment.
Angela Dickens, the hospital's digital marketing director, said Piper plans to supply the face shields "as long as needed" and the supply of materials needed to make them remains available.
In addition to manufacturing the face shields, Piper donated 1,500 3M N95 respirator masks to the hospital Friday. Company workers use such masks in aircraft manufacturing.
"It's a time for action, cooperation and collaboration," Piper Chief Operations Officer James Funk said in a prepared statement. "As a team, we can make a difference for people in need and directly support those fighting the battle on the front lines of this unprecedented crisis.
"This is just one small way that we are trying to help," he added. "We want healthcare providers, especially, and patients to be safe. Therefore, it's vital that we all pull together to help our community, weather this crisis and come out the other side stronger than ever."
Rosencrance said the hospital is "extremely appreciative" of Piper's support. "Their ability to produce face shields and deliver them in a timely manner provides additional personal protective equipment for our caregivers."
Asked if Piper might produce other type of personal protective equipment used at the hospital, Carlon said the company will "focus on just the face shield for now."