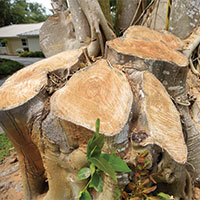 Riomar residents say FPL 'mangling' live oaks
STORY BY STEPHANIE LABAFF

Old Riomar residents are attached to the mature live oaks that are a charming feature of their neighborhood and several outraged homeowners contacted Vero Beach 32963 last week to complain that Florida Power & Light was damaging trees unnecessarily as it trimmed branches near powerlines.
In his email, Club Drive resident Allen Morton said the pruning is "detrimental to the beauty of Vero Beach. They are not 'trimming' the trees. They are mangling them. One of the things that makes our town beautiful is the trees. FPL is clearly scarring the town with their trimming efforts."
Morgan Morton said she and her husband came home to their house one day last week to find a "butchered" tree. "We were never even alerted. We just happened to get back and there they were. They had already cut so much off and were about to cut more that had nothing to do with the poles.
"My husband stopped the crew, telling them, 'Now you're getting on our property. You cannot cut anymore. You've already ruined this tree.'"
In his letter, Bay Oak Lane resident David Strupp called into question FPL's "mindless efforts to protect the power lines."
Like others in the neighborhood, he is upset residents were not notified or consulted. "What they have done is shameful and a disgrace," he wrote.
For its part, FPL claims residents are sent letters in advance of tree trimming projects or other planned maintenance or construction.
FPL spokesperson Marie Bertot said FPL advises local government officials, sends area customers a letter in advance and places door hangers at the homes several days before beginning work in a specific area.
However, as of press time she had not responded to questions asking for confirmation that such notification was given to Old Riomar residents along with the dates on which the notification occurred.
Bertot justified the project by saying that "FPL's vegetation program aims to trim in a manner that reduces negative health impacts on trees while providing customers enhanced long-term reliability. Trimming is overseen by International Society for Arboriculture-certified arborists and carried out in compliance with pruning specifications set by the American National Standards Institute."
She said FPL regularly maintains vegetation along power lines to help prevent outages and flickers, adding that trimming helps "accommodate upgrades to critical feeder lines to help make the energy grid stronger, smarter and more storm-resilient." She noted that trimming enhances service reliability and allows for the installation and construction of upgraded equipment, including new poles, new conductors and other equipment.
Jason Jeffries, City of Vero Beach planning and development director, said the city does not have the power to regulate how FPL trims trees because utility companies are exempt from the city's tree-preservation ordinance. "They can cut any tree that they need that is within the utility easement or in the right of way where it interacts with the power lines."
Regarding rumors that powerline poles along Club Drive are due to be replaced, Bertot would not comment on Old Riomar specifically, but said "all transmission structures are planned to be either steel or concrete by year-end 2022. FPL delivered the best-ever overall reliability in 2019 through continued improvements to the energy grid, benefiting its more than 5 million customers. This is, in part, thanks to power pole upgrades."
Morton questions the need for "butchering and maiming" 100-year-old live oaks to protect or upgrade powerlines, suggesting the company put the lines underground to protect them from hurricanes and other storm activity. She said that while it may be more costly initially, in the long run, maintenance in terms of pruning trees and power outages due to storms would be more economical.
Bertot said FPL has already strengthened or placed half of its main power lines underground and is currently in the midst of a three-year, $193 million pilot to "underground segments of neighborhood powerlines to determine cost-effective ways to enhance reliability in good weather and bad," adding that more than two-thirds of FPL's new distribution lines have been placed underground.