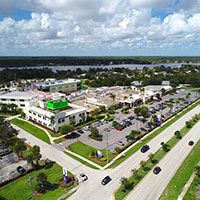 Sebastian River Medical Center, smaller of county's hospitals, furloughing staff
STORY BY MICHELLE GENZ

The smaller of the county's two hospitals, Sebastian River Medical Center, is furloughing workers as parent company Steward Health deals with what it calls the "seismic financial shock of COVID-19," brought on in part by a drastic fall-off in elective procedures, a mainstay of hospital revenue.
Most of the furloughs here and around the country involve non-clinical staff and those who don't work with patients, according to Steward spokesman Darren Grubb.
"This unprecedented global chain of COVID-related events is forcing us to consider all our options," said Grubb. "We are optimistic about expected federal government assistance to help get us through the crisis. However, even with significant government support Steward must make some difficult decisions.
"While painful for us, many hospital systems around the country are taking the same steps. We believe these necessary measures will help us navigate this crisis while keeping our focus on the future – and our ongoing commitment to caring for patients and the communities we serve."
Grubb pointed out the employees will continue to get benefits though they won't be getting a paycheck.
He said the furloughs are temporary but offered no hint of an end date and no count of how many workers are affected at SRMC or Steward's other two Florida hospitals.
Steward Health, a for-profit system with 36 hospitals in nine states, says it has been preparing for COVID-19 for months. "Steward's preparations began months ago, when we launched a substantial program to acquire and stockpile specialty equipment required to treat COVID-19 patients – including ventilators and personal protective equipment," the system said in a statement over the weekend, just as its Massachusetts hospitals anticipated a surge in COVID-19 cases.
"Steward continues to work closely with vendors and the state and federal government to replenish resources as needed. Once the surge declines in Massachusetts, unused personal protective equipment can be deployed to other Steward hospitals, should other regions begin to surge."
At the same time, systemwide, Steward has said it will not entirely stop performing elective procedures, despite a plea by the U.S. surgeon general for hospitals to take that action to preserve protective equipment, or PPE.
The action requested by the surgeon general was also meant to keep complications from such surgeries from being admitted into hospitals packed with COVID-19 patients.
Steward maintains the necessity of such procedures should be determined by physicians and their patients, in accordance with federal guidelines. Other hospitals are tacking the same tack.
All three local hospitals – Cleveland Clinic Indian River, Sebastian River and Lawnwood Regional Medical Center in Fort Pierce – say they are following criteria set out by the Centers for Medicare and Medicaid Services when deciding which elective procedures should go forward and which can be postponed.
"Cleveland Clinic Indian River Hospital will use guidelines set by CMS to determine which procedures are nonessential and should be postponed," reads an online statement on the Vero hospital's website. "Going forward, procedures must be lifesaving for the patient, preserving function of organs or limbs, reducing risk of metastasis or progression of disease, or reducing risk of severe symptoms."
On another front, Steward Health claimed to be the first in the nation to isolate COVID-19 patients in a single hospital within a region. Carney Hospital in Dorchester, Mass., was the first to be designated all-COVID-19.
The hospital has stopped taking non-COVID-19 in-patients, though its ER remains open to all. Last weekend, Steward was preparing to open a second COVID-19 designated hospital, also in Massachusetts.
The idea behind the COVID-19 hospitals is to isolate patients from those not infected, and to fully prepare caregivers with all necessary PPE. That should conserve masks and gowns in a surge because caregivers won't be moving from infected patients to non-infected patients.
It's still not clear which, if any, of Steward's Florida hospitals – Sebastian River, Melbourne Regional or Rockledge Regional – will be turned into a COVID-19 facility. That would effectively mean closing one of the three hospitals to non-COVID-19 patients and admitting all who have the disease to the selected facility.
These days, Sebastian River Medical Center appears to be staffing less than half of its 154 licensed beds. As of Monday, 53 of 64 available beds were occupied, with 11 available, according to a new state chart aimed at helping determine hospital and ICU capacity during the pandemic.
The same chart Monday showed an ICU with only nine beds, with seven of those occupied. On its website, Sebastian River shows a 16-bed ICU was added in a 2010 expansion.
New space now being built at the hospital would add 24 beds in the first phase, and another 24 in a second phase. Though that addition was expected to open in early February, it has been delayed for unexplained reasons. Both county and state officials have said the hospital has yet to request a final inspection.
Spokesman Grubb could offer no update on the project.