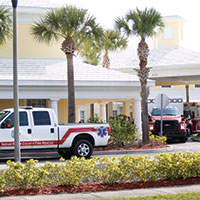 Three deaths at HarborChase up county total to 4
STORY BY LISA ZAHNER
Photo: Ambulances responding to COVID-19 call to HarborChase.

Indian River County had literally been beating the odds with only 85 cases of the coronavirus among our 140,000 residents plus visitors – a much lower rate of infection than in the country as a whole – but this proved no time to celebrate as the past week took a tragic turn with three more deaths confirmed inside  a local nursing home.
At first, Indian River County's cases were largely travel-related but reports as of Monday night show that we have only had one travel-related case in more than two weeks, meaning the virus has definitely spread in our community in general, making it even more important for seniors and those with chronic health problems or compromised immune systems to stay home.
Fortunately, at least one island community full of at-risk people is seeing residents take "Safer at Home" to heart, helping keep the county's numbers low.
"I believe – very strongly – that people here are adhering to the recommendations," said Indian River Shores Town Manager Joe Griffin. "As you know we have a seasoned (older) population that follows orders. I see it every day so congrats to them."
Griffin said the Shores, which typically thins out around Easter, is still pretty full of seasonal residents avoiding flights back to northern states harder hit with the coronavirus.
"Interesting that I have seen 'car carriers' offloading cars rather than loading them for the trip north," Griffin said, speculating that perhaps some snowbirds are "migrating south for time here this summer."
The town is prepared even if snowbirds want to stay for the duration. "Services remain status quo season or off season; we were going to have some road and building improvements that will continue as scheduled," Griffin said. "The Public Safety Department has maintained their usual first-class level of service with Chief (Rich) Rosell at the helm."
In a big win for greater Health Department transparency that Rosell was quite outspoken about last week, Gov. Ron DeSantis ordered the Florida Department of Health to release the names of nursing homes and long-term care facilities with COVID-19 outbreaks, so we found out that HarborChase of Vero Beach is the facility working to beat back the virus among its residents and staff.
That list of facilities – more than 300 of them at press time – is now public, and updated daily. The day before DeSantis ordered the list made public, Indian River County officials insisted they could not divulge that information because it would violate federal law. Either that was not true or Florida's governor has willingly flouted federal law.
At the federal level, Dr. Deborah Birx pointed to Florida as a good example of what she called "granular data" giving the number of cases ZIP code by ZIP code. It is only through good, ultra-local information that community leaders can decide on the best protective actions to take for their specific county, city or town.
As of press time, the 32963 ZIP code – the barrier island – still had between five and nine positive cases of the coronavirus. The 32967 ZIP code where the Harbor Chase nursing home is located had 12 cases, including seven cases and three deaths in long-term-care facilities.
The mainland part of the City of Vero Beach, ZIP code 32960, is still the county's local hot spot with 27 cases.
Vero City Manager Monte Falls said he hasn't seen any marked increase in seasonal residents postponing their departure. But he does field a good number of calls from city residents and business owners. "We are getting calls from people that are anxious to get back to work," Falls said on Monday.
Getting Floridians back to work is what DeSantis and his Re-Opening Florida Task Force are focused on this week. After twice-daily meetings and breakout sessions involving every major industry in Florida from theme parks to agriculture, restaurants and utilities, the task force expects to have recommendations by Friday for a phased re-opening of the state's economy.
Industries will be categorized as high, medium or low risk and allowed to open accordingly.
State officials said, for example, that restaurants should be permitted to open outdoor dining areas at reduced seating capacity. Elective medical procedures would also be a top priority, but starting those up would depend greatly upon the availability of protective equipment like masks, gloves, surgical gowns and face shields.