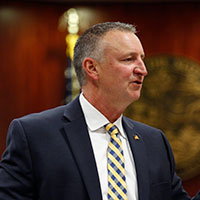 Tom Bakkedahl hoping to take over as State Attorney after Colton steps down
STORY BY RAY MCNULTY
Photo of Tom Bakkedahl.

At last, it appears to be Tom Bakkedahl's time.
The decision of Bruce Colton not to run for a 10th term as State Attorney for the 19th Judicial Circuit, which includes Indian River County, has paved the way for his longtime chief assistant, Tom Bakkedahl, to seek the office.
"This office will be in very good hands if Tom gets the job," Colton said of Bakkedahl, 53, who announced his candidacy for State Attorney via a Zoom videoconference shortly after his boss announced his planned retirement via email.
"Tom has proven he can do it," Colton added. "He's been an outstanding chief assistant for more than 15 years. I believe he's got the support of the four sheriffs in the circuit. He's respected by the judges and his fellow attorneys, on both sides. I can't think of anyone who would do a better job of running the office.
"He's the right choice, and he's ready."
Colton, meanwhile, said he's ready to retire when his term ends in January – a decision he reached after turning 73 in late December.
Colton, who has lived in Vero Beach for nearly 40 years, said he has no health issues that would prevent him from continuing to work, nor is he being chased away by any soon-to-become-public wrongdoing.
"When you change your mind like this, the first two things people tend to think are: He's sick, or there's some kind of scandal coming," Colton said. "Neither is the case here. I'm actually in decent health for a guy my age, and the office is in really good shape with a lot of very skilled and experienced attorneys who will stay on if the right person takes over."
Although he hasn't personally tried a case in more than a decade, he said he still goes to the office each day filled with a sense of purpose, a passion for his work and the energy needed to take on the challenges of the job.
He also enjoys the camaraderie he shares with his staff, including the younger lawyers he recruited, trained and continues to mentor.
So why did he change his mind?
"There wasn't any one thing," Colton said, adding that he has no specific plans for his retirement. "I fully intended to run again, but as we got towards the end of the year, I started rethinking it. The more I thought about it, the more I thought about how long I've been doing this and how nice it would be to retire.
"Maybe turning 73 had something to do with it, making me realize that I am getting older and, if I did one more term, I'd be 78 when it ended," he continued.
As much as Bakkedahl wants the job, though, he said he never wanted to push Colton into retirement – so much so that, throughout the years, he strongly encouraged his boss to seek re-election whenever they discussed the next term.
"I take credit for keeping him around as long as this," Bakkedahl said. "I've always said that if Bruce wanted to be State Attorney for life, I'd be fine with it. I've never thought: 'When do I get my chance?'"
After enthusiastically supporting Colton's decision last summer to run again, in fact, Bakkedahl initially shrugged off Colton's January conversations about not running.
"But the topic kept coming up," he added. "By the time we got to February, it had become apparent he was serious about it."
Colton said he announced his decision now to give other possible candidates time to decide whether to run for the office – they must file the necessary paperwork with state election officials before April 24 – and to avoid any appearance that he's handing the job to Bakkedahl.
"I didn't want it to look sneaky," Colton said, adding that he hopes Bakkedahl runs unopposed.
Bakkedahl, who said he filed his paperwork and opened a campaign account, has tried cases in the 19th Circuit for nearly 30 years, serving as Colton's chief assistant since 2004. He was named the Florida Prosecuting Attorneys Association "Prosecutor of the Year" in 2018.
Highly regarded for his courtroom work, Bakkedahl said he will continue to try cases if elected to succeed Colton.
"I still have a passion for being in the courtroom, trying cases and working with crime victims to attain justice," Bakkedahl said.
During Colton's run as State Attorney his office grew from 10 attorneys to 54 and now employs 150 people across four counties. He oversees an operating budget of $12 million.
"Bruce has been a big influence on my career, and his departure will be a huge loss for this community," Bakkedahl said. "I can't promise you that I'll have the same demeanor and temperament, but I'll do everything I can to live up to his legacy."