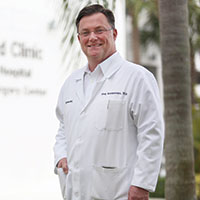 Two hospital caregivers tested positive for COVID-19
STORY BY MICHELLE GENZ
Photo: Cleveland Clinic Indian River president, Dr. Greg Rosencrance
The word "happy" seemed to come with both effort and relief as Dr. Greg Rosencrance, president of Cleveland Clinic Indian River, simultaneously confirmed that two of his hospital's caregivers had tested positive for COVID-19, but that both are now out of the woods.
"I'm happy to report both are doing well," he said in an interview with Vero Beach 32963 last week. "And I'm also happy to report that one is fully recovered and back working with us."
The two positive cases were discovered during "significant testing" of hospital staff, Rosencrance said. That process is about to be improved with test results in a matter of minutes instead of days.
Long-awaited rapid testing for the new coronavirus became available last week at the Vero hospital, with results available in five to 13 minutes. At this point, though, supplies of the fast test are limited and its use is being confined to the hospital.
"We are currently limiting it to symptomatic caregivers in high-risk areas in the hospital, or to first responders," Rosencrance said. "It is not available to the community at large or through our drive-through testing."
The five-minute test made by Abbott labs is processed in a machine on site, small enough to fit on a countertop. Another rapid-results test platform available at the hospital is made by the biotech firm Cepheid. It can process results in 45 minutes but also is in short supply.
Currently, drive-through test swabs are sent to Cleveland for processing. "It's a pretty quick turnaround using Cleveland Clinic in-house, 24 to 48 hours," Rosencrance said. 
As of Monday, the hospital had conducted more than 500 tests at its drive-through test site out of almost 4,000 who were screened. Another 500 were tested in the hospital.
A new rapid test for antibodies in the blood – showing whether someone has already had the disease – has been ordered, according to Gov. Ron DeSantis.
Meanwhile, the hospital is a capture point in the web of COVID-19 spread, between its drive-through testing, the emergency department and a designated COVID-19 wing.
So far, hospitalizations of COVID-19 positive cases at Cleveland Clinic Indian River hospital have hovered around 10 at any given time, with a total of 11 hospitalized at press time Monday.
The hospital also is a critical source of guidance for the community, with Rosencrance lately amping up that role and providing more information to the public.
"It is absolutely a conscious effort to get out and encourage people to stay home, and to be transparent on what our preparations are so people in our community can feel cared for and informed on what we're doing," said Rosencrance.
Rosencrance has offered his own timeline for infections in Indian River County – with a peak coming no sooner than May and as late as mid-summer – which is different than the state health department model that predicts a peak in late April.
The state's model of the outbreak's curve is based on calculations generally viewed as optimistic, from the University of Washington's Institute for Health Metrics and Evaluation. The late April peak was moved up from May 3 two weeks ago and presumes strict adherence to social distancing.
Cleveland Clinic's modeling is proprietary, Rosencrance said, but typically has pointed to a later peak than what is predicted by Florida's health department.
"The current modeling by our state government is that we may see a peak at the end of April. That's a little sooner than we thought. But there's a range of models. We try to be prepared for the earliest model that we may see, but we have to be diligent and prepare for a range of eventualities, not just the end of April or May but what it could look like even beyond May and into June."
Rosencrance said Cleveland Clinic is postponing elective surgeries unless they are emergencies or life-threatening to "maintain capacity, because when a surge does come, it won't be a phased-in process. It will come fairly quickly over the course of 48 to 72 hours."
Extending the curve over a longer range is generally preferred because it would lower the risk of hospitals being overwhelmed at any one point. But that would require maximum adherence to stay-at-home orders, abundant handwashing, diligent sanitation of surfaces and possibly even the wearing of masks for the general public.
"This is the time to double down," said Rosencrance.
Cleveland Clinic Florida has a plan to add 2,400 beds to the 1,080 it already has statewide, if needed, plus another 400-bed field hospital. Those plans were made known by Dr. Wael Barsoum, president of the Cleveland Clinic Florida vision, according to Marybeth Cunningham, who chairs the Hospital District Board and speaks often to hospital leaders.
Indian River County's share of that expansion would involve going from 311 beds to 540, and from 24 ICU beds to 100 ICU beds if necessary, Rosencrance said in a recent press conference. The increase would be implemented in phases.
"We feel comfortable with where we are in our current capacity as well as the ability to flex up as additional capacity is needed," he said.
As for any return to normalcy, Rosencrance sees it dependent on several challenges.
"For us to be getting back to a sense of normalcy, we'll have to be able to have increased testing and surveillance of positive individuals, and that will be a gradual process," he said. "We'll need to start seeing not only a slowing of the rate for positives gradually, but a decrease in positive cases and hospital admissions over a sustained period, which is at least two weeks."