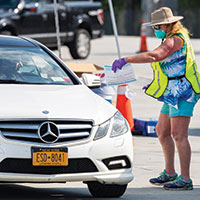 Will curbing travel from hotspots help keep COVID-19 at bay?
STORY BY LISA ZAHNER
Photo: A driver from New York is intercepted at a COVID-19 checkpoint at the Florida state line on Interstate 95.

Florida, faced with a mounting coronavirus crisis in South Florida yet nearly half its counties relatively unscathed by COVID-19, started the week by opting to "thread the needle" – seeking to protect Floridians while keeping the economy as open as possible.
Instead of subjecting all of Florida's 22 million residents to veritable house arrest for weeks, Gov. Ron DeSantis declined to issue the type of lock-down orders imposed by 30 other states, but partitioned off South Florida trouble spots for the restrictions of a "Safer at Home" order.
That does not apply to Indian River County, even though Monday brought us the highest number of new COVID-19 cases here yet – five, raising the pandemic total for this area to 25 with three hospitalizations and no deaths.
That compared to a Monday total of 5,704 cases and 71 deaths for all of Florida, with Miami and Fort Lauderdale accounting for about half.
To deter tourists and part-time residents from bringing more coronavirus to low-exposure areas like Vero from COVID-19 hotspots like New York, New Jersey, Connecticut and Louisiana, DeSantis ordered the National Guard and state troopers to stop those travelers at airports and highway checkpoints.
At roadblocks on I-95 and I-10, out-of-staters were forced to declare where they will self-quarantine in Florida for 14 days under penalty of fines and jail time.
DeSantis further yanked the welcome mat from under visitors by shutting down all short-term vacation rentals statewide, and seeking to reduce the number of flights to Florida. The message was loud and clear: Stay away so Florida can tend to its sick and get the virus under control.
Already, Elite Airways canceled its April 3 and April 6 flights between Newark and Vero.
For the counties like Indian River where it still seems manageable to isolate and contain the spread, DeSantis wants to expand testing, quarantine those affected at home or as a last resort in the hospital, and track down contacts who may have been exposed.
If this plan works, places like Indian River County with low density and sensible, compliant residents hopefully can avoid a devastating economic meltdown along with a health pandemic.
On Monday, County Commissioner Bob Solari said he saw no reason for more stringent measures here based upon the current case tally.
"I don't think we need to close any more businesses or do any draconian measures," Solari said, adding that he did agree with closing the beach access points two weeks ago during spring break.
College kids packed like drunk sardines on beaches in Miami and Fort Lauderdale, along with cruise ship passengers and travelers from the Northeast, are widely perceived to have helped fuel the exponential growth in cases this past week.
Many of the 25 Indian River patients who have tested positive for the coronavirus had recently traveled, about a quarter of them to the greater New York epicenter or internationally.
With stern worldwide and domestic travel advisories now in place, and quarantine orders a distinct disincentive to jet or drive to Florida, these travel-related cases should presumably subside soon.
In the meantime, DeSantis is intent on flooding Florida with hundreds of thousands of test kits, plus thousands of doses of a malaria medicine cocktail just approved by the FDA to try on COVID-19 patients.
State and local agencies are also distributing as many face masks and pieces of protective equipment as state officials can get their hands on from manufacturers, the national stockpile or even the somewhat-shady secondary markets.
Meanwhile, a number of readers have contacted us from homes, condos and assisted living facilities, wanting to know why we are not reporting how many intensive-care beds and ventilators are ready and waiting in Indian River County should they, God forbid, become infected.
Despite repeated requests for specifics, neither county health officials nor the two hospitals have shown any willingness to disclose the number of available intensive-care beds, or the number of ventilators, currently on hand in Indian River County.
The best answers our staff can get is that we have "adequate" beds and that the hospitals have access to more ventilators, should we get to the point where we need to bolster capacity.
More forthright answers to these questions could either put local residents at ease, or light a fire under someone to get more beds and ventilators ready. But while the situation for the moment appears under control here, there is little to no transparency.
On the opposite end of the spectrum, Indian River County Fire Chief Tad Stone has been extremely open about the challenges he is facing, especially with scarce protective equipment, and Indian River Shores Public Safety Chief Rich Rosell and Capt. Mark Shaw have been an open book about their department and their supplies, providing numbers and specifics whenever asked.
Staff writer Ray McNulty contributed to this report.