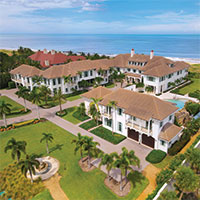 $25 million sale breaks record for island residences
STORY BY STEVEN M. THOMAS (Week of August 6, 2020)

The largest house on the barrier island was sold to a California buyer for $25 million last week, the highest price ever paid for a piece of residential real estate in Indian River County.
The 40,800-square-foot compound at 1940 S. A1A in the Estate Section had been on the market for two and a half years, listed at $29.9 million. It went under contract on June 27 and closed on July 30.
Island broker Jim DiMarzo, who represented the buyer in the transaction, says this is the third family from California he has helped relocate to Vero in the past year. Though DiMarzo declined to identify the buyer, he says the purchaser has a very large family and "will use definitely the whole house."
The seller is listed in property records as Sunrise Design LLC., and Cindy O' Dare and Richard Boga of Premier Estate Properties were the listing agents. 
O'Dare says the record-breaking sale is part of a trend, with buyers "fleeing the big city" since the start of the coronavirus pandemic.
"We have seen an uptick in oceanfront sales," she says. "We are laser focused on California, New York City and South Florida and it's really paying off.
"Vero is still seen as a safer destination."
Boga notes that large houses on big lots that afford privacy and separation have added appeal in the current circumstances.
"The pandemic has led more people to spend more time at home, so now more than ever, having a sanctuary is important – whether it's to home-school your children, stay active without going to a public gym, or just spend a little time relaxing without feeling like your whole family is stacked on top of each other. This has led many buyers to consider larger homes than they might otherwise have considered a year or two ago ... and buyers do definitely value homes on larger lots."
The 18-bedroom, 27-bath house sold last week was originally custom built for Robert Allen McGuire Jr. by Joe Foglia of Foglia Custom Homes and Vic Lombardi of JV Enterprises. It is situated on a 5-acre parcel with 315 linear feet of Atlantic Ocean frontage,
Constructed with luxury finishes and the latest smart-home technology over a period of two years and completed in 2015, the main house and guest houses encompass 27,588 square feet of air-conditioned living space and nearly 41,000 square feet under roof.
"There is nothing else that large on the Treasure Coast," says Foglia. "You would have to get into Palm Beach to find something comparable.
"There are four kitchens, four elevators – including one commercial grade – and a 25-person movie theater. The pool is extraordinary. An average pool is 450 square feet. That one is 10 times as large, with a surface area of 4,500 square feet and a capacity of 186,000 gallons."
After living in the home for a short time, McGuire decided to sell the property, listing it for $45 million with O' Dare, Boga and their then partner Clark French. The sky-high listing price was intended to set a ball-park value, but McGuire did not aim for a traditional sale.
Instead, the home was offered at auction by Concierge Auctions and sold for $17.5 million in December 2017. Including a 12 percent buyer's premium, the total paid by the buyers was $19.6 million.
Sunrise Design LLC then immediately invested another $2 million into redecorating and refurbishing the property in hope of flipping it for a substantial profit and listed it with O' Dare, Boga and French for $29.9 million in March 2018.
DiMarzo, primarily a buyer's agent who has done business on the barrier island for more than 30 years, describes the $25 million deal as "the crown jewel" of his career.
The prior top residential sale on the barrier island was of the so-called Wackenhut Estate in Bermuda Bay, which county property records show went for $18,560,000 in 2005.
But Boga says that actually was a $20 million deal and that the house at 1920 S. A1A – which is next door to 1940 S. A1A and also was owned by McGuire – sold for a contract price of $20.1 million, even though county records show a sale price of $17 million.
In both instances, the $20 million sales included furnishing and other goods that were categorized separately and not recorded as part of the real estate transactions, according to Boga.
Even taking the higher numbers, though, the transaction last week eclipsed any other home sale on the island by at least $4.9 million – and likely netted the investors a profit somewhere between $1 million and $2 million after purchase, renovation, carrying and closing costs.