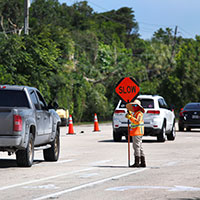 A1A road project a traffic nightmare – so wait until season
STORY BY RAY MCNULTY (Week of August 6, 2020)

Traffic congestion on A1A caused by the Florida Department of Transportation's $6.7 million widening and resurfacing project in Indian River Shores has been more of a nightmare than expected for barrier island motorists – and will likely get worse when seasonal residents return.
There have been mile-long backups spawned by lane closures, sudden stops to allow left turns across oncoming traffic, and frustrated motorists opting to drive illegally on grassy shoulders to avoid further delays.
Worse, some drivers have become so confused by temporary road markings that they found themselves going the wrong way in a one-way lane.
"Have we gotten complaints? Absolutely," Indian River Shores Public Safety Director Rich Rosell said Friday. "At first, it was mayhem out there. The work crews were holding up traffic until there was a mile-long backup, then they'd let a mile of traffic go through, which created mile-long backups in the other direction.
"They've now changed their flag people, and the traffic flow has gotten a little bit better," he added. "They've also made it easier to identify the lanes, so we don't have as many wrong-way drivers. But it was dicey for a while.
"Fortunately, we've had only one motor-vehicle crash there – in front of John's Island – and it was minor."
Despite the improved conditions, Rosell said he had asked FDOT officials to reduce the speed limit in the construction zone from 45 mph to 35 mph. No response, so far. The lower speed limit would give drivers more time to brake when traffic comes to a sudden stop, he said.
"I don't understand why the speed limit is 45 mph through a construction zone," Rosell said. "To me, 35 mph is more reasonable, especially when you've got crews working close to the traffic. Hopefully, FDOT will agree.
"In the meantime," he added, "we've put up a sign asking drivers to slow down."
FDOT's project spokeswoman, Kathleen Dempsey, said she was unaware of Rosell's request, but she insisted work crews were making every effort to keep traffic safely moving through the construction zone with as few delays as possible.
"You can't avoid lane closures and delays when you're widening the roadway," Dempsey said, "but we're trying to do it with minimal impact on traffic flow."
The 15-month project, which began June 22 and is expected to drag out into the fall of 2021, includes installing 7-foot-wide, buffered bicycle lanes along a 6.74-mile stretch of A1A from the Vero Beach city line to Coco Plum Lane near Wabasso Beach.
FDOT also plans to improve roadway signage, traffic signals and drainage, as well as make repairs to sidewalks where needed. Lane closures are scheduled from 8:30 a.m. to 4:30 p.m. Monday through Friday, and 8 p.m. to 6 a.m. Sunday through Thursday.
"We knew this was coming, and we're bracing for a year and a half of it," Rosell said. "People who live in Indian River Shores don't stay in the town. They go out and drive north and south on A1A. So, we've put some of our officers out there to slow down traffic, because people in a rush can do stupid things.
"On the positive side," he added, "the road is going to be a lot safer for everyone – especially the bicyclists – when the project is done."
When the project was announced in 2016, the plans did not include wider bicycle lanes. A push by local cycling groups, however, prompted FDOT officials to add the wider and safer bike lanes to the design.