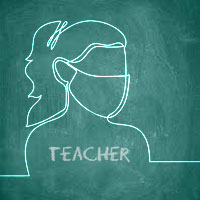 As classrooms reopen, top Vero doc agrees: 'The much greater risk will be for teachers'
STORY BY MICHELLE GENZ (Week of August 13, 2020)

As a lawsuit filed by Florida's largest teachers union makes its way to Tallahassee following a hearing last week in Miami, counties large and small are rethinking their decision to reopen school campuses.
"These are life-and-death, no-do-over decisions," the lawyer for Florida's largest teachers union argued in court last week.
The suit challenges the constitutionality of the emergency order to reopen school campuses, saying a guarantee of "safe" and "secure" schools is written into the state's constitution.
But Indian River County is forging ahead with its plans to reopen Aug. 24. Despite a 14-fold increase in COVID-19 cases in the county since June, when Gov. Ron DeSantis started the conversation about reopening, and a more than 10-fold increase in pediatric cases, the school district has not flinched.
Instead, its determination seems to have increased. Last week, the school district canceled planned temperature checks on some 10,000 kids as they arrive at their schools each day.
Temperature checks will still take place at Indian River Charter High, which has placed touchless thermometers in every classroom.
Overall, a safer scenario seems to be evolving at the public but largely self-governing school. Masks are required at Charter High and ultraviolet germ-killing filters have been installed in the A/C units. Plexiglass barriers have been positioned where there are social distancing challenges, and the school's "dedicated cadre" of substitute teachers, as the principal called them, are already in training this week to learn about new safety and health procedures.
Perhaps most importantly, a plan devised this summer has students alternating days between in-person and virtual learning, reducing by half the number of students on campus.
By contrast, the county's public schools at large are opening with around 67 percent of students coming to classes in person each day.
"School openings are going to be challenging. They are also going to continue to generate much controversy," predicted Dr. Gerald Pierone, a Vero-based infectious diseases specialist who trained at Mount Sinai Hospital in New York at the onset of the HIV-AIDS epidemic.
Along with his private practice, Pierone is chief medical officer and founding physician of Whole Family Health Center, a community clinic serving more than 4,000 patients.
"It's hard to imagine that schools are not going to amplify the transmission dynamics of COVID-19," he said. "If there is already widespread community spread, schools will certainly accelerate it."
Pierone is aware of the data showing young people, particularly kids 10 and under, having typically milder, often asymptomatic cases; children may also spread the disease less easily. But he's also aware of the rare pediatric cases that develop into severe disease or have complications such as the autoimmune reaction known as pediatric inflammatory multisystemic syndrome, or PIMS.
However, his chief concern is for older people who work or live with children.
"The much greater risk will be for teachers, administrators and support staff," he said. "Those who are older and have medical conditions that place them at higher risk of severe COVID-19 are going to have to make some tough decisions about working."
Pierone hopes school districts can accommodate those at-risk school employees by allowing them to work from home when possible.
As for substitute teachers, the school district said only that it is currently recruiting. But one teacher worried that many subs are retirees who will not want to risk working in a school environment. Requests for comment left with the county school district offices were not returned by press time.
For the rest of the county's workforce, the pressures for reopening are both financial and emotional.
"Pediatric specialists are worried that not opening schools will lead to long-term detriment of children in multiple spheres of child development," said Pierone. "Parents also need schools to watch their kids so that they can work. So, we have to choose between the lesser of two evils."
But the trade-off could be costly. "The infections in school-age children will percolate into their families and other adults and children they come into contact with," Pierone said.
To slow that spread before it gets out of control, the state's policy was to reopen with "a dimmer switch," easing incrementally back into normal student activities and populations.
That seems not to be the case in Indian River County, where two-thirds of kids have signed up to come back to class.
Some teachers returned for orientation last week to find enrollment numbers approaching double the promised 16 students per classroom. That automatically makes social distancing unlikely, if not impossible.
There are already concerns about how to manage challenges from contrarian kids over social distancing measures, or from bullies assaulting others with targeted coughs, COVID-positive or not.
"There will be a coughing incident within the first hour of school," one teacher predicted.
For those "difficult situations," the state commissioner of education, Richard Corcoran, said, "our default is always to show compassion and grace."
"That means doing nothing," said the teacher, who spoke anonymously for fear of reprisal; the school district bans teachers from speaking to the press.
Then there is the dicey scenario for bus drivers. Students are required to wear masks on buses as is the driver. But how is a bus driver who sees a maskless kid in his rearview mirror supposed to enforce the rule?
In the schools, masks are strongly recommended, and required when social distancing isn't possible, according to school officials, but they are not required at all times.
Teachers reported their classrooms as of last week had sparse pandemic supplies: one clear face shield, one spray bottle of disinfectant and one pack of wipes.
It took only moments for teachers to start asking each other: How do we collect papers? Do we pass out the same textbooks class after class? Is there time in the seven minutes between classes to spray down desks and allow the disinfectant to do its work, before a new batch of kids must sit down? Who's going to substitute teach if we get sick, since many of the most reliable subs are retirees and at risk?
Increased testing and contact tracing could help the situation, Pierone said. But so far, there appears to have been no effort to enhance testing availability for children and adults with connections to schools. And delays in getting results back could spell disaster in the close quarters of classrooms.
"Rapid test kits are still generally unavailable, although we will be getting some rapid antigen detection kits at Whole Family in about two weeks," Pierone said. "We will not get rapid PCR kits until the first of October at the earliest. Traditional testing via Quest, LabCorp and other commercial labs typically results in a lag of three to 14 days before results come back. This makes them much less effective to lessen community transmission."
Despite all the obstacles, Schools Superintendent David Moore insisted he and his staff were "excited" to start the school year.
"Our teachers have 15 days to work together and problem-solve so when we open the doors or turn on the computers Aug. 24, we are set and ready to go," said Moore last week in a Facebook Live presentation.
Moore did offer parents who have signed up for their children to return to school in person the chance to change their minds and move from brick-and-mortar back to virtual learning. 
"We have a willingness to be a little bit more flexible and allow families to make decisions in real time that are best for them," he said.
This week, along with making a full presentation on reopening to the school board, Moore will be sending his team into each school to "identify outstanding practices and share with other principals." At the same time, the teams will note what additional work needs to be done to "safeguard schools."
Pierone is not optimistic. "It is going to be a mess," he said. "Sorry to sound like Cassandra, but I think that this rough patch is going to become even more turbulent."