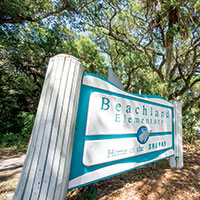 Beachland Elementary pupils to face new kind of school day on return
STORY BY GEORGE ANDREASSI (Week of August 13, 2020)

Students will face a new kind of school day when they return to Beachland Elementary on Aug. 24, according to school principal Rachel Finnegan.
"These are uncharted waters for everyone," Finnegan told Vero Beach 32963 last week. "We're all riding these waves together for the first time."
When students arrive at 9 a.m. or earlier, they will be greeted at the front of the school each day by a staffer who will escort them to their class to reinforce social distancing and other safety rules, Finnegan said.
Temperature checks will not be required for the students upon entering Beachland, as previously planned, Superintendent David Moore said during a Facebook Live presentation, but students will be examined daily for symptoms of COVID-19 and other illnesses.
Face coverings will be mandated in most situations.
"If we can't provide a 6-foot distance for social distancing to follow the guidelines, all students and staff and faculty will be required to wear a mask or provided a face shield," Finnegan said.
Parents will no longer be allowed to bring their children to class, as was allowed in past years, but parents and students will have the opportunity to preview Beachland's new health and safety measures before the first day of school.
Signs with the new school logo – a shark surfing a wave while reading a book – were ready to greet the students and parents during face-to-face orientation sessions set for Thursday and Friday this week, Finnegan said.
She described the orientation sessions as "one-on-one interaction with the teacher – some alone time in the classroom for the parent and the student to ask those necessary questions and learn about what the school will be doing to provide a healthy and safe environment."
Students and parents were also being shown the safety measures put in place for meal service in the cafeteria and for recess periods outdoors, Finnegan said.
School District Superintendent David Moore said he expects about 10,000 students – two-thirds of the student body – to return to class in person and the other 5,000 students to attend class virtually via computer when schools reopen on Aug. 24.
If that ratio holds true at Beachland, it means there will be about 300 students instead of the 470-some normally in attendance. Finnegan declined to provide an exact number.
Administrators will consider temporarily closing any school where 20 percent of the instructional staff or 5 percent of the school population tests positive for COVID-19, Moore said.
"We have a goal of not having to close schools," Moore said. "But in planning and preparation for the worst-case scenario – which would be a closure and/or a quarantine for those in brick and mortar buildings – there is a plan in place.
"We will be working to create lessons and provide that information to our students, given a possible closure, or a possible quarantine," Moore said. "So, there will be no break in instruction if this has to happen."
Students and teachers who are quarantining will participate in virtual classes on computers at home, if their health allows, Moore said. Schools that are closed will be cleaned before reopening.
Anyone at Beachland or any of the district's other schools who tests positive for COVID-19 must self-quarantine for up to 14 days and meet several criteria, including testing negative, before they can return to school, Moore said.
Students and employees will also be expected to self-quarantine if they live in the same house as someone who tested positive for the virus, Moore said.
Students who are not returning to school in person have two options for distance learning – a self-paced program of learning online that will run until the end of the first semester, or virtual school in teacher-led classes during regular school hours for the first nine weeks with the ability to return to school in person with the same teachers after nine weeks, Moore said.
Orientation for virtual students is scheduled for Tuesday and Wednesday next week.
Parents are encouraged to make suggestions for improving the health and safety measures at Beachland Elementary, Finnegan said. "We're going to problem-solve together and be as proactive as possible to ensure the healthiest and safest environment for our entire school team."