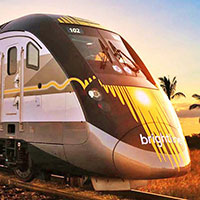 Brightline scraps Virgin Trains USA deal, and will resume using old name
STORY BY GEORGE ANDREASSI (Week of August 13, 2020)

The Brightline passenger train partnership with Richard Branson's Virgin travel conglomerate is the latest casualty of the COVID-19 pandemic.
Brightline's parent company terminated its branding agreement with Virgin Enterprises Ltd., as affiliate Virgin Atlantic Airways Ltd., sought protection from creditors in U.S. Bankruptcy Court in New York.
Brightline Trains LLC will replace Virgin Trains USA LLC as the company's official name, according to the July revenue and ridership report filed Friday with the Florida Development Finance Corp.
"Virgin has no remaining affiliation with us, our parent, or its affiliates, whether through equity ownership, or otherwise," the report says.
The demise of the deal dashed Branson's vision of European tourists flying Virgin jets to Orlando and Miami airports and taking Virgin Trains to theme parks, other major cities – including Tampa, West Palm Beach and Fort Lauderdale – and Virgin cruise ships in Port Miami.
But it will have no impact on Indian River County's appeal to the U.S. Supreme Court to overturn the Federal Railroad Administration's environmental and financial approvals for the project, said county spokesman Brian Sullivan.
Brightline Trains' response to the county's appeal is due Aug. 21, records show. The county has spent approximately $4 million in legal costs to fight the project.
Meanwhile, Brightline Trains continued pile-driving operations on the $33 million replacement of the 94-year-old St. Sebastian River Railroad Bridge linking Indian River and Brevard counties.
Brightline plans to spend $2.5 billion to construct 175 miles of new high-speed track between Orlando and West Palm Beach in hopes of extending passenger service by the end of 2022.
Passenger trains would zip through Indian River County at speeds of up to 110 mph, sharing the dual tracks with Florida East Coast Railway freight trains traveling up to 60 mph.
More than 750 construction workers were engaged in the project in July, Brightline's July report says. Pandemic-related health measures instituted on construction sites have not slowed construction.
Brightline suspended passenger service between West Palm Beach and Miami on March 25 to prevent the spread of COVID-19.
A total of 271,778 passengers rode the train in 2020 prior to the shutdown, the company reported.