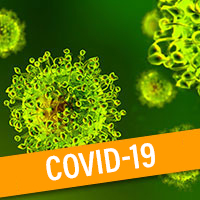 COVID-19 death rate here above state average
STORY BY LISA ZAHNER (Week of August 13, 2020)

As the United States surpassed the 5 million COVID-19 case mark this week, Indian River County saw the number of new cases easing a bit with 203 new people testing positive – maybe due to testing centers being closed for Hurricane Isaias, or maybe not.
But the steeply increasing death rate here from COVID-19 complications is the big, tragic story this week.
Eight more local residents died over the past week, six of those residents of long-term care facilities, bringing the countywide death toll to 56 people, or 2.28 percent of positive cases as of Monday's report. That places Indian River County 46 percent higher than the statewide death rate of 1.56 percent.
As state officials discussed plans to begin allowing visitation again at long-term-care facilities across Florida, the county's nursing homes continue to battle major outbreaks of COVID-19, with Consulate Health Care of Vero Beach having 40 positive cases, including nine staffers, according to Florida Department of Health reports updated Sunday afternoon.
The state report also lists 36 cases including six staffers at Palm Garden of Vero Beach, where five residents had died as of the last long-term-care facility death report on Aug. 7.
The county's all-time positivity rate for those tested held steady at 9 percent this week as the volume of testing decreased, so at least Indian River is still below the statewide number of 13 percent positives.
And cases on the barrier island are still below 100 for the 32963 ZIP code, where the tally stood at 93 as of press time. The Vero Beach 32960 mainland ZIP code, however, passed the 700-case mark this week.
Neither the Indian River Board of County Commissioners nor the Vero Beach City Council has acted on any meaningful measures to require face masks in public places to help protect those at risk, and curb the spread of the virus by those who might not know they are infected. Both the county and Vero boards are on summer vacation until Aug. 18.
Vero Beach Mayor Tony Young, in a recent recorded video message to residents, expressed optimism while underscoring that Vero has an older, more at-risk population, making it even more important to follow social distancing, wash your hands and wear a face covering in public.
A cohesive, whole community effort is needed to protect the vulnerable, Young said. "You are the antidote to the COVID stress. We are a special hometown and I know, together, we'll make it through," Young said.