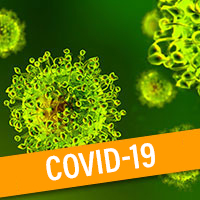 COVID infections, deaths here nearly double in 2 weeks
STORY BY LISA ZAHNER (Week of August 6, 2020)

As Florida's statewide tally of COVID-19 cases topped the half-million mark, Indian River County added 700 cases in the past two weeks for a 41 percent increase during that time.
Local deaths have nearly doubled, rising from 25 to 48 over the past 14 days, with the virus still spreading among the most vulnerable in the county's nursing homes and assisted living facilities.
Hospitalizations spiked back up to 37 on Friday, stretching staff, but Cleveland Clinic officials say the hospital still has capacity to handle the current caseload.
Barrier island cases have risen steadily, but not as rapidly as the rest of the county, up 18 percent from 76 cases two weeks ago to 90 cases as we started the week.
Five months into Florida's COVID crisis, our local government officials still exhibit no sense of urgency. Neither the Board of County Commissioners nor the Vero Beach City Council has the gumption to vote through anything approaching a facemask mandate.
The City of Vero Beach decided it could influence public behavior if city officials broadcast daily messages on social media reporting the case numbers and urging people to follow Centers for Disease Control and Prevention guidelines for slowing the spread of the virus by social distancing and wearing facemasks.
The message (or maybe the messenger) seems a little disingenuous considering the majority of the elected council members can't even concede that the science supports mask wearing as effective protection.
The only good news this week is that maybe the laboratories processing the backlog of COVID-19 tests had a chance to catch up during the five days that state-sponsored drive-through test centers and many private testing centers were closed in preparation for Hurricane Isaias' arrival.
On Monday, Gov. Ron DeSantis announced that some of the state's testing centers will now offer the Abbott Labs 15-minute rapid test to the elderly, and to those with COVID-19 symptoms. Having real-time test results should help make contact tracing more effective. Plus, every test processed on-site in 15 minutes will be one less added to the backlog at the labs.
As we enter the dog days of summer, it's not the time to get complacent.
Countries around the world that imposed stringent lockdowns to beat back COVID-19 are now seeing their daily case number creep back up.
On Monday, the World Health Organization's technical lead on COVID-19, epidemiologist Dr. Maria Van Kerkhove, said communities must use all the tools available to them in concert – testing, contact tracing and isolation, compulsory masking, social distancing and good hygiene – to get the virus under control.
"It's about acting quickly, acting comprehensively and acting aggressively to bring even the smallest outbreak under control," Van Kerkhove said.
Vero Beach and Indian River County have not acted quickly, comprehensively or aggressively. It's no great shock that roughly one in 65 people here has now tested positive for the virus.