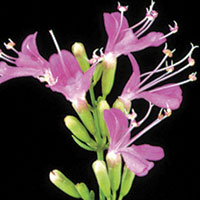 County introducing cuttings from rare plant to save it from extinction
STORY BY SUE COCKING (Week of August 13, 2020)

Indian River County officials and a noted Bok Tower Gardens botanist are conducting the first-ever introduction of one of the rarest plants in the world to a county conservation area near Roseland, hoping to protect it from extinction.               
Lakela's mint – a fragrant plant with beautiful lavender-rose-colored flowers – grows only along a narrow, 3-mile-long strip of the Atlantic coastal ridge from Fort Pierce to Vero Beach and nowhere else, according to Cheryl Peterson, the botanist in charge of Bok's rare plant conservation program. 
Named for botanist Olga Lakela, who discovered it in 1962, the small shrub has been nearly wiped out by development of the sandy scrub habitat near the railroad tracks and U.S. 1 where it once thrived.
Now Peterson is working with Beth Powell, Indian River County's assistant director of parks and conservation, and a small cadre of volunteers to plant about 500 seeds and cuttings raised at Bok in a quadrangle in the middle of the North County Conservation Area, which is miles away from where the plant is known to grow.
"This is a species that is going to be extinct without our help," Peterson said. "Since there are no more available protected scrub areas within the three-mile stretch, we need to go outside of its range a little bit. This is a suitable soil type and habitat and it's been managed. This is not just 'put a bunch of plants in the wild and walk away.' This becomes a research project of how to save it."
The planting area is divided into four quads holding 125 plants each and employing different management regimens. One quad has recently been burned; vegetation was thinned from another; a third is about to be burned; and the fourth is a control with no treatment at all. Peterson and Powell really want to know how the new plants, which were selected for genetic diversity, will respond to fire – a proven management tool for keeping forests healthy.
"If something happens at another site, we're creating a mini-refuge here," Powell said.
Volunteers have been installing irrigation tanks and lines, and preparing the soil for planting, which could happen any day now.
Powell's original introduction to Lakela's mint happened years ago when the county purchased the historic Hallstrom Farmstead in Vero Beach and she saw what she thought might be the fragrant bush growing along U.S. 1. Sure enough, her find was verified by scientists at the U.S. Fish & Wildlife Service as Lakela's mint.  Peterson and the county have since augmented that population.
"It's a rare and unique plant to our area," said Powell. "You can taste the leaves. They taste like peppermint. The genetics of the plant haven't been completely studied."
Peterson plans to study the Roseland plants for at least a decade to see how they fare compared to the other populations that are left.