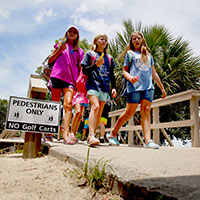 Do summer camp experiences provide model for school?
STORY BY MICHELLE GENZ (Week of August 6, 2020)

No masks and no social distancing. That was the mantra at Life for Youth Camp this summer.
Despite that, not one of the estimated 450 weekly campers or 40 counselors at the Christian sleepover and day camp came down with COVID-19, according to camp leaders.
Likewise, at Leisure Square, where masks were required by mandate as a city-owned building, there were no COVID-19 cases during a month of day camps, leaders said.
But at least two other summer camps that required masks and adhered to social distancing rules did see cases, though leaders said the outbreaks were quickly contained by the camps' own contact tracing and isolation.
The success of local camps could be seen a positive model for school re-openings but camps in other places call that into question. Just as camps in Indian River County were wrapping up for the summer, proud of having kept coronavirus out – or at least under control – a CDC report released Friday revealed a summer camp in Georgia saw 260 cases in nine days of operation.
Though some camp directors voiced more caution than others about schools reopening in the midst of a COVID-19 surge, all those reached by Vero Beach 32963 felt strongly that the in-person social interaction that takes place in brick and mortar schools is critical to child development.
Vero Beach recreation director Jim O'Connell, who oversaw the Leisure Square camps, said the summer camp experience is "a good model for how the schools can go about reopening.
"It's one man's opinion, but we've demonstrated how we can basically put on our normal programs with a lot of restrictions and a lot of safety measures in place," O'Connell said. "We're thrilled with how it's gone."
Leisure Square put kids in "family" groups of 10 that did not interact with other groups. O'Connell said those small groups would have made it easier to contact trace had COVID-19 appeared. "It also meant there was less interaction than you would normally see," O'Connell said.
All the camps reduced their capacity, took temperatures at the door, and increased cleaning measures. Boys and Girls Clubs of Indian River County hired one person to do nothing but clean all day at each of its three camp locations.
Many camps canceled field trips, in the belief that outings entailed too much risk to campers.
Late last week at Skate Factory, a counselor at the rink's own skate camp learned she had tested positive for the virus, prompting a 10-day shutdown. Asked who might have been exposed to the counselor, general manager Kevin Carroll answered, "anyone who came here."
The county's three Boys and Girls Clubs were among those that skipped field trips this summer. Slashing attendance to around 200 from 650 last year, they limited enrollment to children of working parents, giving priority to kids of essential workers. And they accepted no campers over the age of 12.
Boys and Girls Clubs claimed to adhere to strict CDC guidelines. Kids stayed in their own communities, with three separate camps taking place in Vero Beach, Fellsmere and Sebastian.
That may have proved useful in curbing COVID-19. When numbers began to spike in Fellsmere, and two staff members fell ill along with a child infected outside of camp, Boys and Girls Club officials decided to close the camp for three weeks until families felt secure sending their kids again, while the other two camps remained open.
Life for Youth Camp had closed during the lockdown, when it would have otherwise been used for Christian retreats. With revenue dwindling, it pulled together 40 counselors and arranged for summer camp to be open for 10 weeks starting in June. 
"We just desperately wanted to do it," said Life for Youth's program director Stephanie Stenger. "We were very excited when Gov. (Ron) DeSantis said summer camps could open."
She checked with the county on the camp's no-mask policy. The county responded that mask-wearing was not a mandate, only a request. As for social distancing, there is no mandate, only CDC guidelines.
"We said great, let's do this, but at a smaller capacity and let's change the things that we need to change," said Stenger.
Families were required to fill out a COVID-19 related questionnaire – they could not have recently travelled internationally or visited long-term care facilities, among other things. With that done, after a cautious start at just 40 percent capacity, Life for Youth Camp  quickly ramped up to 200 overnight campers for each week and another 250 day campers came from 9 a.m. to 4 p.m.
They paddled kayaks, drove go-carts and careened around the bounce house, all of which were sanitized after each use. Counselors were told to stand over campers as they washed their hands, Stenger said, making sure they followed the 20-second rule.
Temperature checks were done daily, a measure the camp began after a swine flu outbreak a few years ago. But it was a rise in anxiety that first caught Stenger's attention.
As far as Stenger knows, nobody at Life for Youth got COVID-19; this week is the camp's last. The one counselor who was tested after waking up with a fever turned out to be negative.
Despite success keeping COVID-19 out, there were other problems.
"It was really, really rough in the beginning because these kids came in with pretty serious anxiety," said Stenger, who has been with the camp for 21 of its 58 years. "Mentally, they were affected more than I believe anybody even realized.
"They've had no socialization ... they couldn't communicate with other kids. They didn't know how to communicate with staff. Kids that last year were 100 percent normal in regular society would have absolute meltdowns because they didn't know how to say, 'I'm hungry,' or 'This person upset me because they weren't nice to me.'"
More kids were homesick, too, she said. "I think it's separation anxiety because they've been with only their parents for a couple of months."
Over time, she said, kids seemed to return to normal, with many coming back for second or third weeks.
At Youth Guidance Mentoring Academy, summer camp took place but with fewer kids at each session.
The camp wrapped up last week but not before having to cope with two staff members testing positive for COVID-19; all staff were subsequently tested and found to be negative. Parents were informed and so far no one else, camper or staff, has reported being ill, according to executive director Phil Barnes.
He said the two positives came as a surprise since counselors and kids are required to wear masks. He said one staff member didn't have symptoms until she was no longer in the building.
The second staffer was tested out of a concern for a high-risk family member. Her only symptom was fatigue, and coming at the end of camp, exhaustion was common for all the counselors, Barnes said.
The day the results came in, all campers were sent home. So far, they have not heard of any other cases.
"We were very fortunate," said Barnes.
"Now we know: It's something that you can do all the prep work and it can still happen. Now that we've been through it, we're in an even better position to address it if it happens again."
All in all, it was "minor hiccup" with no serious consequences beyond closing the camp a week early. Barnes said all staff was tested since the two results came in, and all have been negative.
Barnes, whose program involves vocational training and academic tutoring, feels strongly that schools need to reopen – with the proper precautions.
"Face-to-face interaction is absolutely essential for our kids," he said. "The kids have to learn. They can't keep falling behind. We just have to be creative and come together as a community to keep that social distancing piece going. That's going to make all the difference."
Elizabeth Thomason, who oversees three camps as executive director of Boys and Girls Club of Indian River County, agreed but with concerns.
"Kids need to be back in school, to have that kind of structure. But I am not sure we have enough data to make the assumption that children don't spread the virus like adults do, Thomason said. "Intuitively, that doesn't make sense to me. Children are always getting sick."