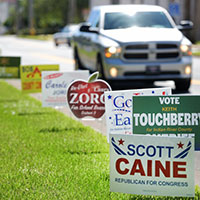 Here's what Indian River County voters will find on the Aug. 18 primary ballot
STORY BY GEORGE ANDREASSI (Week of August 13, 2020)

Indian River County's 120,873 registered voters have until 7 p.m., Tuesday, Aug. 18 to cast their ballots in the non-partisan School Board elections and open Republican primaries for County Commission.
But only the county's 56,484 registered Republicans can vote in the closed Republican primary for sheriff to replace retiring Sheriff Deryl Loar because a no-party candidate entered the Nov. 3 general election.
Early voting at three locations, including the county Main Library, ends Saturday. Voting hours are 8 a.m. to 4 p.m.
As of Monday, 18,555 vote-by-mail ballots had been received by the Supervisor of Elections office, records show. Another 1,205 citizens had voted early.
The Republican candidates for Sheriff are: Sheriff's Major Eric Flowers, former Sheriff's Capt. Chuck Kirby, Indian River Shores Public Safety Director Rich Rosell and Fellsmere Police Chief Keith Touchberry. The winner will face Deborah Cooney, the no-party candidate who closed the primary, in the Nov. 3 general election.
All other winners on Aug. 18 will assume office.
Three Republicans are competing to replace outgoing County Commissioner Bob Solari in District 5: Indian River Shores Vice Mayor Bob Auwaerter, Vero Beach Vice Mayor Laura Moss and real estate appraiser Stephen Boyle.
In County Commission District 3, incumbent Tim Zorc is being challenged by former county Fire Rescue Capt. Joe Earman.
In School Board District 3, School Board Chairwoman Laura Zorc is being challenged by former Sebastian River High School Principal Peggy Jones.
In School Board District 5, Brian Barefoot, a retired college president and business expert, and Alla Kramer, wife of county Republican Party Chairman Jay Kramer, are running for the seat being vacated by Tiffany Justice.
Tax Collector Carole Jean Jordan faces a Republican primary challenge from her former top assistant, Brenda Bradley.
The ballot includes a school tax referendum. The school district is asking voters to extend a 50 cent per $1,000 of assessed value property tax rate for four more years to raise $10 million for operations.
Early voting hours and locations: 8 a.m. to 4 p.m., through Saturday, Aug. 15 at Indian River County Main Library, 1600 21st St., Vero Beach; Sebastian City Hall, 1225 Main St., Sebastian; Supervisor of Elections Office 4375 43rd Ave., Vero Beach.