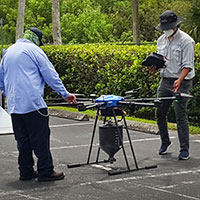 Mosquito Control District brings in new bug-killing drone
STORY BY SUE COCKING (Week of August 13, 2020)

County bug-fighters have a new weapon in their fight against mosquitoes – a drone that can precisely target breeding areas and dispense mosquito pesticide in hard-to-reach areas of the county.
Heading into the thick of mosquito season in Indian River County, things are quiet right now with low numbers of insects found in test traps, according to officials with the Indian River Mosquito Control District. But district director Doug Carlson says his agency is ready for battle in the air, on land and in the water if the situation changes.
The new drone will be an additional tool, augmenting the district's bright-yellow crop-duster type airplane frequently seen in county skies.
"We, like most programs, employ an integrated pest management approach," Carlson said. "We need to come at it from several different directions."
Controlling populations of mosquitoes in and around Vero that carry West Nile virus, equine encephalitis, and St. Louis encephalitis, which can sicken humans and animals, includes aerial and on-the-ground spraying; monitoring sentinel chickens; managing salt marsh water levels; and educating residents to eliminate breeding grounds on private property. 
New to the arsenal is a drone about 6 feet in diameter that can be launched from just about anywhere, is controlled by one or two people, and efficiently deposits its payload of insecticide.
The drone, developed and piloted by private contractor Leading Edge Associates, recently performed its maiden flight over Vero Beach from the parking lot of the 777 medical building, and spread pesticide over a 70-acre area near 37th Street and Indian River Boulevard. That area is near the flight path of the airport where a fixed-wing mosquito plane could not safely operate.
"On our first try, it seemed to work very nicely," Carlson said. "It made a pretty good dent in the area of the hospital."
He said the small aircraft can't cover as large an area as a plane, but it is effective in hard-to-get-to mosquito grounds.  He said it cost about $1,300 to deploy, covering about 15 acres per hour.
Right now, the district isn't planning on buying the drone, but expects to contract with Leading Edge to send it on another mission in a month or so.
Meanwhile, the vigil continues for a possible invasion by biting pests here, which occurred in August of last year.
"As of now, we're not too concerned," said the district's medical entomologist Mark Kartzinel. "We're keeping watch, but our mosquito populations are very low."