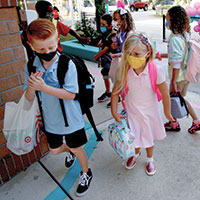 Parents nervous, kids excited as Beachland welcomes pupils
STORY BY GEORGE ANDREASSI & STEPHANIE LABAFF (Week of August 27, 2020)

Beachland Elementary School welcomed 340 pupils Monday for the first new school year in the COVID-19 era, but another 85 students were kept home to pursue virtual studies via computer.
Pupil drop-off went smoothly Monday morning at the island's only public school as district administrators and an extra contingent of Vero Beach police officers helped keep traffic flowing.
Several parents said they are concerned about sending their children back to school because of the possibility they could catch the virus, but said they believe attending school with live teachers and other students is better than home schooling on a computer program.
"I feel like we're all taking a chance at this point, but we've all got to at least try to get back to as normal as possible," said Tashae Golfe, who has a son in third grade and daughter in fourth grade at Beachland. "So, we're going to give it a chance at least for the first few weeks and see how everything goes."
Like a lot of parents, Robbie Crawford said he's sending his fifth- and third-grade sons to school because he and his wife must go to work during the day. In addition, he thinks taking classes at home is not as effective as in-school education, and added that believes the chances are low his boys will catch the virus.
"Most parents are bringing their kids because both parents work," Crawford said. "We think it's just more important that they're in school and interacting with other kids. Our kids have gone to camp all summer and we had zero issues."
Daniel Bowman said he believes his second-grade son will receive a better education by returning to school in person instead of trying to follow lessons on a computer at home.
"At home they just don't have the full, hands-on help they really need, like you would have in a classroom," Bowman said. "You don't have any help. You just have to sit there and finish your work. I think it's better for the kids to be in school so they can have hands-on learning."
Several parents said they were impressed with the health and safety initiatives they saw last week during orientation tours through the Beachland campus.
"I know the school has worked really hard to put into place all the safety and security measures we would expect," said Kristi Challenor, who has twin sons in second grade.
"As a parent, I'm just trying to squash my anxiety," Challenor said as the family rode a golf cart through the car loop at Beachland. "I don't want them to feel if I'm nervous. The kids are really super-excited. They're ready. They're not worried about a thing."
Juliana Marino, who has daughters in kindergarten and second grade, expressed similar concerns.
"I'm a little anxious," Marino said. "I don't know what to expect, but I feel confident they'll be OK. The school has all the safety procedures and I think it is necessary for them to have a social life."
None of the parents interviewed Monday by Vero Beach 32963 objected to school rules requiring students and employees to wear facial coverings when social distancing is not possible.
"I'm OK with that because it's for the safety of the kids and the staff," said Anabella Fiorini, who has a son in second grade. "It's going to be hard. I have a hard time myself wearing a mask for that long, but it's a safety measure to help prevent the spread of the virus."
If parents object to their children wearing face masks at school, they should select one of the two options to take classes via computer, Fiorini and others said.
Since she is pregnant, Fiorini is taking extra health precautions and so is her son.
"I feel comfortable how he behaves and how conscious he is with the situation," Fiorini said. "At home, when we go to the store, he always tells me, 'Don't forget your mask mommy.'"
"It worries me mainly for the pregnancy," Fiorini said. "If we have to quarantine, I probably won't send him back. He'll probably just stay home after that. We're going to give it a shot first."
Several parents said they're concerned about an outbreak of COVID-19 in the school and the possibility classes will be quarantined and the campus may even be shut down.
"I'm praying that it will go OK, and they won't have to shut down school," said Lionel Darrisaw, whose daughter is starting kindergarten. "No situation is perfect so all we can do is take it day by day."
Several parents said they don't want to see a replay of the situation in the nearby Martin County School District, which has reportedly quarantined more than 200 students from three schools since reopening on Aug. 10.
"To shut down school, I think the kids need to be positive for COVID-19 and not just showing symptoms, which is what I've heard about Martin County," said Angela Banzhaf, who has a daughter in fourth grade.
"I'm interested to see how they will handle that."