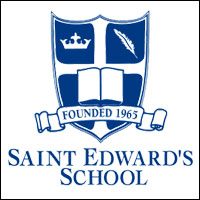 St. Ed's delays start of practice for football and volleyball
STORY BY RAY MCNULTY (Week of August 27, 2020)

St. Edward's School administrators have delayed the start of football practice until at least Sept. 8 – two weeks after classes began – because of the coronavirus pandemic, abiding by the recommendation of a state medical advisory panel.
The Pirates are now scheduled to kick off their football season Sept. 25 at home against Eagle's View Academy of Jacksonville.
"I'm praying hard that we can play, but football is a tough one because it's such a close-contact sport," St. Edward's Athletic Director Jeff Lamscha said. "You see colleges and college conferences cancelling seasons, so it's not an easy decision.
"We've got the kids back in school and we'll how it goes with the pandemic," he added. "I really want to get things going, but we won't play until we believe it's safe."
Two weeks ago, the Florida High School Athletic Association's board of directors – ignoring warnings from its own Sports Medicine Advisory Committee – voted 11-5 to allow schools to begin fall sports practice on Aug. 24.
The Sports Medicine Advisory Committee recommended that teams not start practice until after schools open, so the committee could collect COVID-19 infection data and analyze trends emerging from the return of students.
"We took the committee's recommendation to heart and decided to postpone all athletics for the first two weeks of school," Lamscha said. "It's all about safety."
The school sent a letter to parents to notify them of the decision to delay the start of practice for both football and volleyball, which are considered high-risk sports. Lamscha said he'll meet with administrators, coaches and the school's athletic trainer prior to the Labor Day weekend to reassess the situation.
"We'll talk it through and make the best decision we can," he said, adding that the school's verdict will be based on the number of local COVID-19 cases and their impact on the St. Edward's community.
St. Edward's plays football in the Sunshine State Athletic Conference, which Lamscha said has been supportive of the school's decision to postpone the start of its season.
The delay will prevent the Pirates from playing a full football schedule, but Lamscha said he has been able to "shift games into open dates" and the team probably will play six to eight regular-season contests before the SSAC playoffs begin on Nov. 6.
"Once we start, we'll play every week straight through the end of the season," Lamscha said. "That's the plan, anyway. We'll adjust if we need to."
St. Edward's new coach Mark Gowin, hired in January to replace the ousted Bill Motta, still hasn't run his first official practice with the Pirates because the pandemic forced the cancellation of spring football.
Lamscha said there are more than 20 players on the Pirates roster.
"I know that a lot of people will be disappointed if we don't play, but it's a tough year, and tough decisions have to be made," Lamscha said. "We'll do what we think is right."