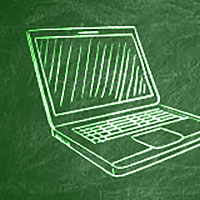 Students returning to school in person to be trained on computer
STORY BY GEORGE ANDREASSI (Week of August 20, 2020)

Students returning to public schools in person on Monday will be trained to do their class work virtually via computer in case they must quarantine to prevent the spread of COVID-19.
"We want to do everything we can possibly do to completely stop the spread of the COVID virus," Schools Superintendent David Moore said Monday during a Facebook Live presentation this week.
That includes eliminating all incentives for perfect attendance during the 2020-2021 academic year so students who are feeling ill stay home until they get better, Moore said.
Parents should check their children for COVID-19 symptoms every day before sending them to school, Moore said. Likewise, district employees should monitor themselves for symptoms of the virus.
"I want to reinforce to our teachers and our families, when you have these symptoms – please stay home," Moore said. "We will be doing everything we can to [ensure people] stay home when symptoms are being displayed."
Key symptoms include a fever of 100.4 degrees or higher, new cough, nasal congestion, runny nose, shortness of breath, difficulty breathing, muscle pain, fatigue, headache, sore throat, nausea, vomiting, abdominal pain, diarrhea, new rash and loss of taste or smell.
Any student or school employee experiencing a virus symptom should remain home and seek medical care, Moore said. So should other students and school employees in the household.
"If the doctor says, 'Let's seek a test for COVID,' continue to stay home," Moore said. "Siblings would also stay home."
Students and parents should immediately call their "school principal when they are pending test results or received test results," Moore said. "We want to ensure quality education continues and we are providing that support to you."
Quarantining students will transition to doing classwork on the Canvas Learning Management Platform, Moore said. Students will be trained on the program early in the school year.
Quarantined students and school employees would be able to return when cleared by their physician, Moore said.
The district will consider closing any school where 5 percent of the students and staff, or 20 percent of school-based staff, test positive for COVID-19, Moore said.
"Those numbers will vary from school to school, depending on size of the school and number of individuals who are doing" online learning, Moore said.
"We're planning on having these absences, but at the same time we're not planning on instruction pausing or stopping through the rest of the school year," Moore said. "So, instruction will continue through our plans that we are working on, contingency lessons."
The district has formed a symptom response team to deal with students and school employees experiencing COVID symptoms, awaiting test results, or coping with a positive test, Moore said.
The team will work with the state Health Department to identify students and school employees who may have been exposed to someone who tested positive for the virus, Moore said.
Classroom seating charts will help them trace the contacts and determine who needs to be quarantined, Moore said.
"We'll be very clinical in defining who needs to quarantine," Moore said.
The School Board last week voted unanimously to approve the 37-page School Reopening Plan outlined Monday by Moore during his Facebook Live presentation.