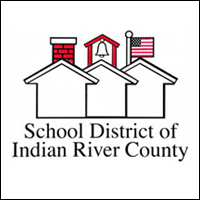 Teachers union, school superintendent working more closely than ever
STORY BY MICHELLE GENZ (Week of August 27, 2020)

As COVID-19 haunts the start of school this week, there is healing going on behind the scenes.
Following years of contentious relations between the school district and its teachers union, the new school superintendent and a new union president are finding common ground at a critical time.
"The relationship has come a long way in just a few months," said Jennifer Freeland, newly elected president of the Indian River County Education Association.
Dr. David Moore was installed as superintendent of schools just three months before the first case of COVID-19 was diagnosed in Indian River County. As a former assistant superintendent of Miami-Dade County schools, Moore specialized in turning around failing schools. He now faces the challenge of letting students in while keeping COVID out – and panic at bay. And he needs the cooperation of teachers to accomplish those tricky goals.
With no silver bullet in their arsenal, Freeland and Moore at least see the hint of a silver lining.
"I believe that through collaboration of the school district, parents, teachers, the School Board and district staff, and community partners, we can become one of the most innovative school districts in the country [in our pandemic plan]," an impassioned Moore told the Indian River County School Board last Wednesday.
Freeland credits Moore as well as her union predecessor Liz Cannon with starting the healing process. That process has led to a radical transformation of the union's bargaining model, from an adversarial, stake-your-claim dynamic to interest-based bargaining, in which all sides present their needs up front and go at each issue together.
"The idea becomes, instead of sitting across the table showing the other side who's stronger and who's got more power, we talk about shared power and shared interests. What's best by kids, and how do we get there?" Freeland said.
"And how do we get teachers happy and comfortable and still have the district good with that?" she added.
In what may be a first in the state, the School District of Indian River County and its teachers union have arrived at memoranda of understanding, or MOUs. The agreements act as side documents to teacher contracts and are particularly useful in emergencies like COVID-19, when working conditions are fluid and multiple parties must adapt and evolve together.
In an unfaltering, seemingly extemporaneous speech to the School Board last week, Moore said he believes Indian River County may be "the first district in the state to have MOUs as it relates to procedures in COVID.
"We have worked through individual problems with our teachers to create a sense of ownership," Moore told the board. "That is not the norm."
"Where we are as a system, as a district, is a significantly better place. We have constantly surveyed and connected with those who are doing this work, those who stand at the front lines – our educators. In intimate conversations, we have asked, 'How do you feel about what we have created?' And we learned. We made changes."
Those changes did not only concern COVID; they appeared to be in the school system's DNA. "We could never have switched [to interest-based bargaining] before Dr. Moore," Freeland said.
"Before, we had to be adversarial. There was no other way than 'gotcha.' Now we've created a relationship where voices on all sides are heard. Not always used but heard. Things have become transparent so we can understand each other as we talk. In the process, our relationship got stronger and we have done more together."
The first MOU was "open-ended," Freeland said, "because we knew as we came for three weeks [of teacher orientation], we would find new things. And as soon as we put kids on the campus it's going to change again."
Freeland said the plan contains "some of the best language in our area for teachers."
"Some of what we're doing is being picked up in other areas as a model. St. Lucie has used it in their negotiations. Martin tried, but it didn't go so well," she said, referring to an impasse over delaying Martin County's start date that resulted in schools opening there Aug. 11 with chaotic results – multiple schools have closed due to COVID-19 outbreaks and hundreds of people have been quarantined.
Freeland cited one media report quoting a questioner of Martin's schools superintendent: "Why can't you get it together like Indian River?"
Moore cited the district's willingness to grant "accommodations" – alternate work scenarios – to teachers and support staff fearful of working in higher-risk brick-and-mortar situations as being rare in the state. He also praised the revised mask policy, which took a U-turn toward safety in mid-July, to the consternation of anti-mask parents.
As the coronavirus continued to infect younger and younger people, a panel of local pediatricians, including Drs. Karen Westberry, Marc McCain and Jessica D'Elia, along with Health Department director Miranda Hawker met with Moore in mid-July. The very next morning, Moore announced that masks would be required if social distancing were not possible.
As it stands, the policy states that students balking at mask-wearing can be offered a "mask pass" – a chance to take a mask-free break in a safe area. If kids chronically resist the rule, they can be sent to the principal's office to be "educated" about the value of masks, or ultimately asked to move to virtual education, a district spokesperson said.
The mask policy wasn't the only policy to change. School was originally scheduled to start Aug. 10. Then the teachers union wrote a letter to Moore asking that school start online only, and the local union's parent organization, the Florida Education Association, filed suit over an order to reopen brick and mortar schools, issued by the state's education commissioner at the behest of Gov. Ron DeSantis. The union claimed schools were not safe to open and that counties shouldn't be denied funding if they open only with virtual schools.
That same day the suit was filed, Moore announced he would delay the opening in Indian River County by two weeks.
(Monday, a Leon County judge granted the union's request for an injunction on the order, but the state is expected to appeal, which would automatically trigger a stay on the injunction. Neither Freeland nor Moore offered comment on the ruling by press time.)
In early August, a plan to check students' temperatures as they arrived at school was scrapped in favor of a daily "universal wellness screening" meant to identify a range of other COVID-19 symptoms, which, if detected, would send children to the school clinic for a fever check.
No one protested that change at last week's meeting, though there was one speaker who was relieved the daily thermometer check was no more. "Pointing a laser at their head for thermometers? That I totally disagree with," said Carolyn Kleinpeter.
The Vero resident also expressed concerns about children breathing toxins in cleaning products used in classrooms. But cleaning protocols too have changed, after coming up during negotiations on the MOU, Freeland said.
A commercial grade product, Buckeye, is now behind a cupboard door, intended for teachers to use as they wish. "But we can't expect a teacher to clean 27 desks" in the seven minutes between secondary school classes, Freeland said.
For that, the district is providing classrooms with household-grade wipes for kids to clean their own desks.
Last week, School Board members were quick to add that people supporting mask-wearing in school had made their opinions known through emails.
"I have received many emails from people requesting us to keep it as a mandate," said School Board member Jacqueline Rosario.
The district has also been flexible in allowing parents to decide between three school options – two online and one in class – a move lauded by Moore.
"We continued to be flexible when other districts said, 'Nope, the deadline is past. Sorry you changed your mind,'" he said.
But that flexibility meant an ever-shifting proportion of virtual vs. brick-and-mortar students. As late as Friday, not all teachers could not be certain whether their classroom would require mask-wearing or not, depending on numbers of students and square footage of classrooms.
Freeland on Friday was happy her classroom at Storm Grove accommodated its dozen desks 6 feet apart – but only as measured "butt from butt," as she put it.
"The flexibility was – is – fabulous. I love it. We insisted on it, and we're making it work, but it hasn't been easy," Freeland said. "Behind the scenes were innumerable issues. Allowing flexibility changes the numbers constantly. It's not just kids enrolling in school and showing up. Instead we have teachers and families choosing. We know COVID can be scary. If a parent were to pull up to the curb and say, 'I can't do this, I just can't drop my kid off here,' we get that. They should have choices."
At the same time, teachers who had decided they needed to work someplace safer than the actual classroom asked for different assignments – accommodations in the district's parlance. Slowly, though, teacher resistance began to diminish as details of the district's reopening plan emerged, including the implementation of more COVID prevention measures, including mask requirements.
"We had a lot that said, 'I think I can do this after all,'" said Freeland.
At Wednesday's School Board meeting, Freeland addressed parents who continued to complain about mask policy, describing the massive effort that went into the district's plan, which she said was intended to "create a calm ... within the storm of COVID," and suggested mask opponents could switch to virtual schooling if they wanted their kids mask-free.
"Or you could go to another county," she added. "There's Martin County." She laid out the numbers of closed schools and COVID-19 quarantines there.
School Board member Tiffany Justice revealed her new commitment to mask-wearing for herself and her children as they head back to school, after watching a close friend suffer with COVID-19, including six days in the ICU.
Justice also praised the new relationship forged between teachers and administrators. "There's so much mutual respect that's happening between the unions and the district that the community should be very proud," she said.
As for what happens when the first COVID-19 cases pop up, Moore said he intends to find them quickly and is working on getting rapid testing in some schools to test students who show up with symptoms. "Rapid testing is highly reliable when there are symptoms," he said.
"No one can predict the future," Freeland told the School Board. "But we sure have tried. And we're not done trying, I'm sure."