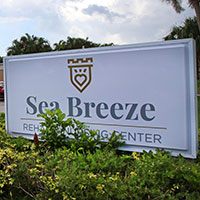 When the nursing home finally called: 'Whatever happened with your dad?'
STORY BY MICHELLE GENZ (Week of August 6, 2020)

For weeks, Jonathan MacGown got regular updates via robocalls from Vero's Sea Breeze Rehabilitation and Nursing Center, where his  98-year-old father was a patient: We have no COVID-19 cases.
"They were calling regularly from a Chicago number," MacGown said. "It was like, look how great we're doing."
Then came an actual voice call saying Sea Breeze had its first case. A staff member had tested positive. That call was on June 22.
Less than three weeks later, on July 11, Sea Breeze sent three residents to the hospital.
One was MacGown's father, Philip.
But no one from the facility bothered to call Jonathan MacGown to tell him his father had tested positive and was being sent to the hospital. 
MacGown got word of his father's condition and hospitalization from Cleveland Clinic Indian River Hospital.
"A doctor called and said: 'Your dad's here, he's got COVID-19 and he's on a ventilator. He's probably not going to make it,'" MacGown recalled. "I got no calls from Sea Breeze."
A week after his father's death, MacGown flew with his wife from Lansing, Michigan, to Florida to witness his father's burial at Cape Canaveral National Cemetery. A World War II veteran who served in Patton's Third Army, Philip MacGown's coffin was lowered into the ground as a ceremonial bugler played "Taps."
"It was very moving," said Jonathan, who was handed the traditional folded flag that had covered his father's coffin.
By then, Sea Breeze had nearly 60 cases of COVID-19 along with the five deaths.
It was only after the burial that  MacGown finally got a call from Sea Breeze's social worker. "Whatever happened with your dad?" she asked.
"It was just a little bizarre," said MacGown. "She came across as having no idea my dad had died."
That is in line with experiences of the families of two other victims. Both, called by the center's management, were asked if they "knew what was going on."
MacGown is familiar with the processes involved with COVID-19 notification. In Michigan, he is senior accountant with the Jackson County Health Department, where he is a member of the COVID-19 response team, conferring several times a week with the county's health director and others.
"Professionally, I'm very knowledgeable about all of this, working for a health department," MacGown said. "I've been on hours and hours of conference calls discussing this. I'm very aware of what steps could be taken in all of this.
"I heard crickets from the place," he said. "Before, if he scratched himself in the night, the nursing staff would be on the phone with me. 'Oh, he scratched himself, but he's fine.' Any minor little thing, they would be on the phone.
"Now there was something potentially major, and I hear nothing. Not 'He's symptomatic, we're going to test him.' Nothing. I get silence.
"That's what's maddening to me," said MacGown. "It makes me feel like this was intentional, that they were withholding information from families."
MacGown said he is "suspicious" of the facility's new ownership and wonders why there was a sea change in staffing soon after the facility changed hands.
Formerly known as Atlantic Rehabilitation and Health Care, the facility was once part of the now-defunct Skyline Healthcare chain, which owned 100 facilities across the country including several in Florida.
Citadel Consulting took over operations and management of the Skyline properties in Florida in 2018, including Atlantic Rehab and Health Care in Vero, which became Sea Breeze.
Today, the Brooklyn-based company calls itself Citadel Health Care. Many of its properties have not fared well in the pandemic, including in the Bronx, where four of its facilities have a combined 162 deaths. One facility, The Plaza, had 71 deaths.
In Florida, Citadel's 105-bed nursing home in Fort Pierce, Sandgate Gardens, showed 35 current positive residents on Monday's report. Two residents died, and six were transferred out of the facility. There were five positive staff members, down from 24.
Two weeks ago, Citadel's Fouraker Hills Rehab and Nursing Center in Duval County had 43 positive residents with five deaths, as well as 26 staff members with COVID-19. A Citadel facility in Clearwater, Kensington Gardens, showed 21 positive residents transferred out and 30 positive staff members.
As of Monday, Sea Breeze was showing 44 cases of COVID-19, nearly all of them residents. The facility's outbreak was by far the worst Indian River County has seen, with nearly twice as many infected residents as the second worst, Sea Breeze's neighbor, Palm Garden of Vero.