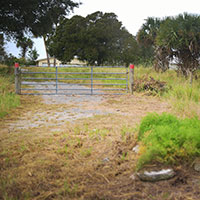 County loses $3.3 million appeal in Ocean Concrete property rights case
STORY BY GEORGE ANDREASSI (Week of December 3, 2020)
Photo: Property at 11085 Old Dixie in Sebastian

A businessman who sued Indian River County in 2007 for changing zoning regulations to block a project he was developing won a major victory last week when a state appeals court upheld a $3.3 million final judgment against the county.
The Fourth District Court of Appeals ruled last Wednesday that Judge Janet Croom acted properly during the September 2019 jury trial in the 19th Circuit Court where George Maib and his company Ocean Concrete were awarded millions in damages.
The three-judge appellate panel unanimously ruled Judge Croom was correct in allowing Maib to testify about the value of the property at 11085 Old Dixie Highway, south of the Sebastian city limits.
The West Palm Beach-based appeals court also rejected Indian River County's claim the judge improperly excluded the testimony of an economist and a property appraiser from the trial.
Indian River County had appealed Croom's final judgment awarding Maib $2 million in damages, which a jury set in a Sept. 26, 2019 verdict, plus $1.3 million in pre-judgment interest.
Maib and Ocean Concrete filed suit against the county in November 2007 claiming county commissioners changed land development regulations to prevent him from developing a concrete batch plant on an 8.5-acre tract zoned for light industrial uses.
A concrete batch plant was a permitted use in light industrial zones when Ocean Concrete filed a development application for the property in December 2006, the complaint says.
But a group of Sebastian area residents organized to stop the project and pressured county commissioners to change the development rules to exclude concrete batch plants from light industrial zones, the complaint says.
Commissioners amended the development rules in July 2007 to limit concrete batch plants to general commercial zones, triggering the lawsuit and ensuing 13-year legal battle.
County Attorney Dylan Reingold said county officials are reviewing the opinion and considering their options.
Maib and his lawyer could not immediately be reached for comment.
Last week was the second time the Fourth District Court of Appeals ruled in favor of Maib and Ocean Concrete in the long-running lawsuit.
In May 2018, the appellate court threw out a prior jury verdict that went in the county's favor and ordered a new trial for damages.
In that decision, the appeals judges ruled the trial judge mistakenly concluded Maib and Ocean Concrete were not entitled to relief under the Bert J. Harris Jr. Private Property Rights Protection Act, which "provides for relief to private landowners when a law, regulation, or ordinance inordinately burdens, restricts, or limits private property," according to the Florida Bar Association.