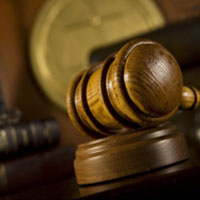 Court: Teel wrongful death lawsuit should go forward
STORY BY RAY MCNULTY (Week of December 10, 2020)

A $10 million wrongful death lawsuit filed against the Sheriff's Office and a deputy who fatally shot a Vero Beach doctor's wife in 2017 has moved closer to trial after a federal appeals court declined to reconsider its earlier ruling that the case should go forward.
A three-judge panel of the U.S. 11th Circuit Court of Appeals in September rejected a district court decision that the shooting was justified, writing a strongly worded, 22-page opinion in which it described the deputy's use of lethal force against Susan Teel as "wholly unnecessary."
Attorneys for the Sheriff's Office and Deputy Jonathan Lozada responded by requesting a rehearing en banc – in front of all of the 11th Circuit's judges – on the merits of the plaintiff's successful appeal.
Stuart-based attorney Guy Rubin, who represents Teel's husband, Dr. Dudley Teel, said the defendants needed at least one of the 11th Circuit judges outside the panel to agree to rehear the appeal.
"They asked the other judges to second-guess the three-judge panel and reverse the ruling on our appeal," Rubin said last week. "That didn't happen. None of the other judges chose to rehear it."
No trial date has been set, and Rubin said the recent spike in COVID-19 cases likely will prevent U.S. District Court Judge Donald Middlebrooks from scheduling one before the spring, possibly early summer.
The trial would be held in either Fort Pierce or West Palm Beach, and it's possible the case will be transferred to another judge, given that Middlebrooks had issued a summary-judgment to dismiss Teel's case last year.
It's also possible the parties will attempt to avoid a trial by reaching a settlement agreement. However, Rubin said no settlement discussions have occurred.
"Maybe something will change with the new sheriff," Rubin said, referring to Sheriff-elect Eric Flowers succeeding Sheriff Deryl Loar next month.
Historically, Loar has been generally opposed to settling lawsuits against the Sheriff's Office. Undersheriff Jim Harpring said Monday the agency would not comment on active litigation.
"We're ready for trial right now," Rubin said. "The depositions have been taken. We know where the mistakes were made ... We were getting ready to go when the COVID surge hit. Now everything has been pushed back."
The shooting occurred shortly after 8 p.m. on July 26, 2017, when Lozada responded to a 911 call for help at the Teels' Carriage Lake home, where Susan Teel had attempted to commit suicide by slashing her wrists.
According to Sheriff's Office reports, Lozada entered the house and spoke briefly with Dr. Teel, who told him his wife of 40 years was upstairs "trying to kill herself with a knife."
Lozada, who had been a deputy for five years at the time of the incident, pulled his gun as he climbed the stairs and confronted the petite, 62-year-old woman in a second-floor bedroom.
The initial Sheriff's Office report stated Susan Teel, believed to have been under the influence of alcohol, was holding a knife and taunted the deputy before she "lunged" at him. That's when Lozada pulled the trigger repeatedly, shooting the woman three times in the chest.
The next day, Loar defended Lozada's actions, saying the deputy was acting in self-defense and had no choice.
"The deputy did exactly what he was trained to do" in a potentially deadly confrontation, Loar said, adding that it was an "unfortunate situation all the way around."
In January 2018, a grand jury declined to indict Lozada on criminal charges. Eight months later, however, Dr. Teel filed his lawsuit, which produced testimony that told a different story.
Court records revealed that Lozada stated under oath Susan Teel was 6 to 10 feet away and moving toward him slowly – not lunging – when the deputy fired.
In fact, the 11th Circuit panel wrote in its opinion that the woman was "not suspected of committing any crime" and the "purpose of the family's 911 call was to keep her alive," adding that she posed a threat only to herself.
The panel also wrote that Lozada, despite having the opportunity to retreat beyond the woman's reach, "pointed the gun at her before she came near him and fired at her without warning."
Rubin said Lozada's law-enforcement training was insufficient to handle the situation and that "almost everything Loar said in his next-day press conference was factually incorrect."