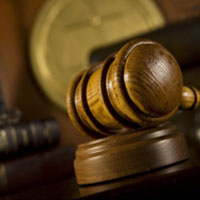 Deputy was facing suspension when he shot doc's wife
STORY BY RAY MCNULTY (Week of December 31, 2020)

Seven weeks before he responded to an attempted-suicide call and fatally shot a Vero Beach doctor's wife in her home, the same sheriff's deputy was involved in an arrest for which he was later suspended for using excessive force that resulted in a suspect's concussion.
The suspension, however, wasn't imposed on Deputy Jonathan Lozada until the Sheriff's Office completed an in-house investigation of the earlier incident – three months after the highly publicized shooting of Susan Teel.
The attorneys representing Dr. Dudley Teel, who has filed a $10 million wrongful death lawsuit against the Sheriff's Office and Lozada, say the deputy should have been placed on administrative leave, or at least removed from road-patrol duty, until the investigation was concluded.
Todd Norbraten, an attorney with the Stuart-based Rubin & Rubin law firm, said Lozada would not have been on duty the night the Teel family called 911 for help if Sheriff Deryl Loar had "taken the appropriate steps" after the deputy used excessive force to subdue an uncooperative suspect during a traffic stop in June 2017.
"That deputy shouldn't have been working the streets at that time," Norbraten said. "But for their inaction, he's not there that night."
Norbraten bolstered his argument by citing the deputy's history of being disciplined for violating agency policy, documented in a deposition given by Lt. Justin Knott of the Sheriff's Office's Internal Affairs Division.
According to Knott's deposition, Lozada had been:
• Disciplined for a 2013 crash that Sheriff's Office investigators determined to be "avoidable."
• Suspended for eight hours for "inattention to procedures" during a vehicular pursuit in 2015.
• Issued a "letter of counseling" and required to undergo four hours of remedial training after another "avoidable" crash in 2016.
• Disciplined by his supervisor and issued another "letter of counseling" for failing to secure a crime scene in 2016.
• Issued a "letter of reprimand" and suspended from his position as a Field Training Officer for three months in 2016 for the manner in which he documented injuries to a suspect when completing a supplemental response-to-resistance report.
• Suspended for 16 hours, issued a letter of reprimand and removed as a Field Training Officer for his "inattention to duties" and other actions during a vehicular pursuit that originated in Brevard County in May 2017.
"Deputy Lozada neglected to demonstrate his knowledge of Indian River County Sheriff's Office policies and procedures, and also failed to adhere to standard operating procedures, policies and directions of his assigned position," an administrative review report stated.
Less than a month later, Lozada found himself under investigation again – this time for "excessive use of force" against a suspect in the parking lot of the Wawa convenience store and gas station at the intersection of U.S. 1 and 12th Street in Vero Beach.
Lozada wrote in his report on the June 8, 2017 incident that he was on patrol and cruising through the Wawa parking lot shortly after midnight, when a man left the store, got into his vehicle and quickly backed out, nearly hitting the deputy's patrol car.
According to the report, Lozada stopped the driver – later identified as Luciano Paternoster of Vero Beach – at the gas pumps and noticed a "strong odor of an alcoholic beverage" on the man's breath and that he spoke with "slurred speech." He also detected the "odor of marijuana" inside the car.
Paternoster, who denied that he had been drinking, refused to take a roadside sobriety test or even exit his car, prompting Lozada to pull him out of the vehicle and arrest him.
The report states Paternoster continued to physically resist and ignore the deputy's verbal commands – behavior that persisted when a second deputy arrived and attempted to help Lozada handcuff the suspect, pinning him against the car and, eventually, forcing him to the ground.
Lozada wrote that the right side of Paternoster's head "hit the concrete ground" and that the suspect "immediately lost consciousness," suffering a cut on his eyebrow and a bruise on his cheek.
Paternoster, who was 22 at the time, was transported by ambulance to Cleveland Clinic Indian River Hospital, where he was diagnosed with a concussion. After being discharged, he was arrested and charged with four drug-related offenses, DUI, resisting arrest without violence and driving an unregistered vehicle.
Lozada, along with two other deputies who provided backup at the Wawa, told Sheriff's Office investigators Paternoster never attempted to hit them or even verbally threaten them – testimony that contributed to Sheriff's Lt. William Luther, the lead investigator in the case, finding that Lozada used excessive force.
Another factor in that decision was Lozada's emotions during the incident.
Luther stated in his report Lozada had a "heightened level of frustration prior to making contact with the driver," which prompted actions that "did not constitute a justified response" to Paternoster's level of resistance.
Of particular concern to Norbraten, whose firm is representing Paternoster and has notified the Sheriff's Office of his client's intent to file a lawsuit, was Lozada's decision to turn off his body-worn audio microphone during the incident.
Lozada told investigators that he turned off the microphone "because I needed to kind of gather myself back together," which Norbraten said raises questions about the deputy's emotional and psychological fitness for police work.
"He seems to have issues handling high-pressure situations," Norbraten said. "I'm not sure you want him first on the scene of an attempted suicide if he can't handle high-pressure situations."
Lozada eventually was suspended for 40 hours for injuring Paternoster at Wawa – but not until after he killed Susan Tell.
The Teel shooting occurred seven weeks later, after 8 p.m. on July 26, 2017 at the Teel family's Carriage Lake home, where Susan Teel had attempted to commit suicide by slashing her wrists.
Lozada responded to the 911 call and, after speaking briefly with Dr. Teel, pulled his gun as he climbed the stairs and confronted the petite, 62-year-old woman in a second-floor bedroom.
The initial Sheriff's Office report stated Susan Teel, believed to have been under the influence of alcohol, was holding a knife and taunting the deputy before she "lunged" at him. That's when Lozada pulled the trigger repeatedly, shooting the woman three times in the chest, according to the report.
"The deputy did exactly what he was trained to do" in a potentially deadly confrontation, Loar said in a next-day news conference in which he defended his deputy's actions.
In January 2018, a grand jury declined to indict Lozada on criminal charges. Eight months later, however, Dr. Teel filed his lawsuit, which produced testimony that told a different story.
After U.S. District Court Judge Donald Middlebrooks initially tossed the case, saying the shooting was justified, Teel appealed to the U.S. 11th Circuit Court of Appeals, where a three-judge panel issued a strongly worded, 22-page opinion reinstating the lawsuit and describing Lozada's lethal actions as "wholly unnecessary."
Court records revealed that Lozada stated under oath Susan Teel was 6 to 10 feet away and moving toward him slowly when he fired, providing ample opportunity for the deputy to retreat beyond the woman's reach.
Guy Rubin, the lead attorney in Teel's case, said Lozada's law-enforcement training was insufficient to handle the situation.
During his deposition, internal affairs lieutenant Knott said the decision as to whether Lozada should've been allowed to continue his road-patrol duties after the Wawa incident was left to the sheriff's discretion.
"Was that the right decision for the community?" Norbraten said. "It takes a certain type of person to be a police officer. Not everyone can do it."
The Teel case is scheduled to go to trial April 20, but federal law requires the parties to attempt to resolve their issues through mediation first. Norbraten said he expects a mediator to be selected in January.