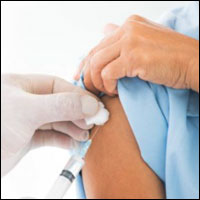 DeSantis: CDC vaccine priority makes no sense
STORY BY LISA ZAHNER (Week of December 24, 2020)

With the first shipments of the Pfizer-BioNTech and Moderna vaccines now in hand to help protect front-line healthcare workers and long-term care residents against COVID-19, public health officials turned their attention to the next big question: When can seniors, including many residents of Vero's barrier island, get vaccinated?
The CDC came up with a complex answer to the prioritization question last weekend, but Gov. Ron DeSantis didn't like it. So Florida may go its own way, boosting seniors ahead of younger people in high-risk jobs in the vaccination queue.
A panel of doctors appointed by the CDC to recommend population groups for a phased national vaccination decided on Sunday that people age 75 and older, and front-line essential workers such as teachers, corrections officers, postal workers, public transit workers, grocery store workers and people involved in commercial food production, would get the vaccine next.
After that, people age 65 to 74, younger people with serious medical conditions putting them at high risk, and a broad category of "essential workers," including police officers, utility workers, officers of the court, and those who work in public safety, transportation, construction, food service and even the media.
Only after all those groups are vaccinated would shots be available to the general public.
DeSantis on Monday called the CDC protocols "purely advisory" and said he'd put out a formal statement on Tuesday about the plan Florida intends to follow. But he laid out his chief objections to the CDC's plan at a Key Biscayne press conference while taking questions from reporters.
"The problem with that, as I see it, is that a 22-year-old food service worker would get it before a 70-year-old grandmother," DeSantis said. "I don't think that's an appropriate calculation of the real risk there. Our whole strategy around COVID has recognized the dramatic risk discrepancy around age."
DeSantis said Florida expects to receive more than 750,000 additional doses of vaccine by the end of December. He speculated that, if asked, young people in the CDC's next phase would gladly give up their place in line to someone the age of their parent or grandparent who is more at risk of severe COVID-19 disease, hospitalization and death.
"We want to make sure we're putting our parents and grandparents first in all of this," he said.
Walgreens and CVS Pharmacy were set to begin vaccinations in nursing homes and long-term care facilities in Vero and across the state after pilot programs in Broward and Pinellas counties last week. Florida Department of Health "strike teams" have been tasked with helping get to every nursing home and assisted-living facility.
On top of the nearly 180,000 doses of the Pfizer-BioNTech vaccine received last week in five major Florida Cities, 173 hospitals in Florida received a total 61,000 doses of Moderna on Monday, with another 300,000 doses expected on Tuesday, and 120,000 doses of the Pfizer-BioNTech vaccine early this week.
Cleveland Clinic, which was on a published state list to receive the Moderna vaccine, received doses of the Pfizer vaccine on Monday and began vaccinating employees hours later.
Dr. Greg Rosencrance, Cleveland Clinic Indian River Hospital president, said on Monday that vaccination was voluntary but strongly encouraged for the hospital's 2,100 caregivers, and would be accomplished in a "phased approach.
"More than 100 caregivers at Cleveland Clinic Indian River Hospital have been identified for the first phase, which emphasizes those job roles that interact with COVID-19 patients or may potentially interact."
A statement from Cleveland Clinic Indian River on Monday emphasized that vaccination of the general public would not happen this month, or even in January.
"COVID-19 vaccines may not be widely available for the public until several months into 2021. That means we must all continue taking important precautions to help slow the spread of the virus. This includes wearing a mask, frequent hand washing and sanitizing, social distancing and limiting gatherings," the hospital said.
If the 1 million doses of vaccine expected to hit Florida in December are all received and administered, the state's most vulnerable residents will have some level of protection as they wait for a second dose three to four weeks later in January.