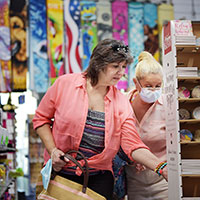 Despite pandemic, island tourism not bad in late summer
STORY BY STEPHANIE LABAFF (Week of December 3, 2020)
Photo: Sisters Cindy Merling, left, of Owosso, Michigan, and Lorraine Szappan of Vero Beach shop at Beach Planet.

When Indian River County issued its end of the fiscal year tourism tax report last week, there was less bad news than many feared and some unexpected good news.
After everything the state, country and world has been through in 2020, including travel and business restrictions, overall revenue from the county's 4 percent bed tax for the year ending Sept. 30 was down less than 10 percent.
And revenue from tourism in September was actually up 30 percent compared to last year.
Even granted that tourism was slow in September 2019 due to Hurricane Dorian, the uptick was a pleasant surprise, and many island businesses say the good times continued into October.
Compared to last year, guest numbers were up in September at Costa d'Este Beach Resort & Spa, according to general manager Chad Olson, and he expects an increase in bed tax revenue for October as well, when those numbers are calculated.
"October was very healthy for us," Olson said. "November has been a little bit off, but I think it's more weather-related. This whole year, people have booked last minute. If the weather is nice, people are still traveling. They want to be outside."
Olson said he expects a good December. "This is our premier weather time of year. People want to be outside. I'm not worried."
At the Driftwood Resort, manager Zach Zebrowski said business at the resort was up in October compared to the prior year and that November is neck and neck with last November.
He said the hotel is getting busier as high season approaches and that guests are starting to stay for a little longer, and more are beginning to travel from farther away. "Weekends are very, very good, and it's quieter during the week."
According to Boris Gonzales, Caribbean Court Boutique Resort owner, his hotel was 98 percent as busy this July, August and September as in the prior year. October was soft, but the hotel was fully booked for Thanksgiving until news of an increase in COVID cases began to scare people into staying home.
"November was looking fantastic until we started to get cancellations," Gonzalez said.  "People are a little hesitant. I think everybody is waiting for the vaccine."
South Beach Place manager Nikki Barroso says her hotel is holding its own, despite the pandemic. "We were busier from August to November this year than last year due to an increase in domestic tourists from South and Central Florida."
Beach Shop owner Martin Bireley said he had a good October but a slow November.
"Overall, I couldn't be more pleased with coming through this craziness of COVID and being shut down. I couldn't ask for a better rebound from all that," said Bireley, attributing sales at beachside shops to people supporting local businesses.
At Casey's Place, owner Casey Steil said his business has been booming. "With everything going on, everybody seems to want to sit outside. It's been a lot better than in previous years. We've been fortunate, considering everything."
Steil said he's noticed quite a few first-time visitors from out of town, along with more locals who don't usually come to the island for lunch. He attributes this influx to the fact that people want to sit outside.