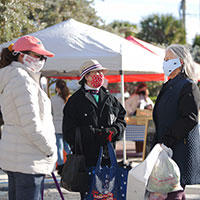 Farmers Market Oceanside, Art in the Park both on comeback trail
STORY BY STEPHANIE LABAFF (Week of December 31, 2020)
Photo: From left, Heidi Leone, Pam Proctor and Gretchen Leone gather for a quick chat at the Farmer's Market

Ocean Drive bustled with activity in the weeks leading up to Christmas. If you popped over for a bit of shopping on a weekend morning, you more than likely had to circle the block a time or two to find a parking space.
Last year at this time, most folks would have grumbled under their breath about that inconvenience.  But not this year.
This year, parking problems are a welcome sign that things are picking up, especially for vendors at the weekly Saturday morning Farmers Market Oceanside and the twice monthly Art in the Park Fine Arts & Crafts Show on Sundays.
When the Farmers Market shut down in March, along with much of the rest of the local economy, vendors adapted and offered pickup service at the Riverside Theatre "loop," with customers ordering online and then driving through to get their produce.
When the theater reopened, the market stopped offering drive-through pickup and shifted to home delivery, allowing customers to place orders on Thursdays for Saturday delivery – a service that is still available.
"We're grateful to the community for supporting us and keeping the vendors going," said Farmers Market manager Brittany Swartz. "A lot of those businesses are only still standing because people continued to purchase through the delivery and pickup service."
Since reopening on Ocean Drive in June, the market has gradually returned to nearly pre-COVID size, according to Swartz, with more and more customers returning to the outdoor venue by Humiston Park to shop in the sea air.
Folks seem to feel more comfortable shopping outside, Swartz said. "Our vendors are required to wear masks, and we request that shoppers wear them as well. The Farmers Market is a community of small businesses at the end of the day."
While the market has bounced back and is packed many Saturday mornings, Swartz said foot traffic and sales have fluctuated somewhat in these uncertain times. "The traffic is up and down. It's hard to say if that has anything to do with COVID or if it's the election year."
At the annual Christmas market, for instance, there were people galore, but sales were not robust, according to Swartz. "Despite having tons of foot traffic, vendors said they had a slow day. It seemed like more people came out to look and experience the market but didn't make purchases."
Several established vendors haven't returned to the market, whether out of an abundance of caution over health concerns or because they were unable to stay afloat through the shutdown. But Swartz said new vendors have stepped in to fill empty stalls.
The island's Sunday art shows are back, too, with artists and artisans once again displaying their wares twice monthly along Ocean Drive by Humiston Park.
Art in the Park Fine Arts & Crafts Show provides Vero Beach Art Club members with a venue to showcase and sell their work, including paintings, sculpture, glasswork, ceramics and jewelry.
The artists returned to the wide sidewalk by the park in October, according to Joanne Johnson, event co-chair.
"The crowd has been a little less," Johnson said, "but all the artists have been selling, so they are doing pretty good."
Public feedback has been positive, Johnson added. "People were excited that we were there. It's a positive step in the right direction. We have 25 slots, and in December, we were almost full, with 22 artists."
Johnson said she expects a full slate of artists to be in attendance from January through April, the traditional busy season for the art show and the Farmers Market.