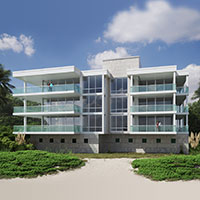 Indigo Vero Beach: Luxury development coming to oceanfront
STORY BY STEVEN M. THOMAS (Week of December 17, 2020)

A major new oceanfront development is coming to the barrier island in 2021. It sits on a spectacular and historic piece of land just inside the northern boundary of Vero Beach, and is twice as large as Surf Club, the most recent oceanfront home project completed in the city.
Indigo Vero Beach, located on four acres behind the 7-Eleven, will bring to market 15 detached villas and 6 ultra-luxe modernist condos with a total listing value of about $60 million, according to Yane Zana, managing partner of the development company.
"We have been working on these plans for a while," Zana told Vero Beach 32963. "We should be getting our approved site plan from the city within a month or so and plan to break ground in about four months."
"We are anticipating an excellent project," said Vero Beach Planning a Development Director Jason Jeffries, who has reviewed preliminary plans. "[Zana] has done good work in the city in the past."
Pre-construction prices at Indigo will range from $2 million for ocean-view villas to $3.2 million for larger oceanfront villas. Condos will be priced from $2.5 million to $3 million, according to Zana. Condos will be 3,500 square feet while villas will weigh in at either 3,000 or 3,500 square feet.
Realtors are excited about the prospect of new oceanfront inventory.
"Demand for new homes on the island has never been higher in the 11 years I have been here," said Premier Estate Properties broker associate Richard Boga, who with his partner Cindy O'Dare sells many of the multi-million-dollar homes that change hands on the island. "The freestanding villas at that price point are the right product at the right time for this market. I think the developer will enjoy tremendous success."
"There is certainly an appetite for luxury oceanfront condos and villas here in Vero and new construction is high on the list for many of my buyers," said Chris Butler, Villa Realty broker/owner.
The project site is exceptional, with more than 500 linear feet of ocean frontage, and the location is another strong positive according to realtors. Indigo is only a mile and half from Vero's seaside shopping and dining district and even closer to the Village Shops in Indian River Shores.
The 4-acre upland parcel has some history behind it.
Originally part of a navel tracking station established to watch for German submarines in WWII, it later serving as an Air Force radar site. In 1980, the Air Force decommissioned the property and leased it to Florida Institute of Technology, which established an internationally known marine research center on the site.
When its 30-year lease expired in 2010, FIT bought the property and soon announced plans for a new $10 million building and expanded research facilities.
But the lab's supervising professor died and the university's efforts to attract support for the expansion from island donors fizzled.
The lab went dark in 2016, and in 2017 the county offered FIT $1.5 million for the property, with the idea of expanding its adjacent Tracking Station beach park. The deal, however, did not go through.
In 2019, FIT successfully petitioned the city of Vero Beach to annex the unincorporated property, adding to the value of the land.
Zana put the property under contract in September 2019 and closed on the deal in April 2020, paying $6 million for the tract.
Almost immediately, other developers swooped in seeking to buy the property, offering to pay as much as $14 million, according to Zana.
The city zoned the parcel C1-A, which allows a wide range of uses. Zana says one developer proposed a 140-room hotel while others wanted to max the site out with luxury apartments or condos.
In the end, despite the lure of a quick and dramatic profit, Zana and his silent partner decided to develop the property themselves, though they did bring in a Dallas-based real estate investment group as a financial participant.
"They have a network of U.S. and European investors and they told me they oversubscribed the project in two hours when they put it up on their portal," Zana said. "They said it was the fastest an offering has ever sold out."
Indigo Vero Beach LLC, the development entity formed for the project, demolished the old FIT buildings and cleared the site in June with plans to break ground in April or May.
Zana's Coastmark Construction is teaming up with Vic Lombardi, owner of Water's Edge Estates, to build the high-luxe development.
"Vic is a brilliant builder who has constructed and developed a number of quality oceanfront projects such as East End and Surf Club, along with a dozen magnificent oceanfront estates, so I decided to bring him in as my co-general contractor for Indigo," said Zana, who is still in the middle of developing Blue at 8050 Ocean, a 21-unit luxury, oceanfront condo project several miles north of Indigo.
East End and Surf Club are townhouse developments in Vero Beach that share many construction characteristics and challenges with the planned villas at Indigo.
"It is a great project, and I am excited about the opportunity to collaborate with Yane," Lombardi said. "Detached oceanfront at this price point doesn't exist. It is something we have not seen before in this market."
There are three unit-types at Indigo, according to Zana's just unveiled plan.
The centerpiece of the development is a row of 10 detached oceanfront villas, with about 7 feet between units.
Zana says the 3,500-square-foot villas, which are offered for $3.2 million, "will remain in the Anglo Caribbean tradition but with a modern flare. They'll have four bedrooms and five and a half baths, along with amazing infinity-edge oceanfront pools and lanais."
Running back from the south end of the oceanfront row will be five 3,000-square-foot villas "with gorgeous courtyards with swimming pools," according to Zana. "These villas overlook the Vero pier and beaches to the south and benefit from a lot of sunlight given the southern exposure." They start at $1,995,000.
The final element in the project design is a single six-unit, modernist condo building north of the oceanfront villas.
"All the units will be corner residences with 50-plus feet of ocean frontage, which is phenomenal for a condominium," Zana said. "They'll have 10-foot floor-to-ceiling glass, sweeping oceanfront terraces, two- or three-car garages and superlative interior appointments. These will start around $2.5 million and top out at just over $3 million with 3,500 square feet of air-conditioned space for the largest residences.
"All residences at Indigo will enjoy a gated entry, beautiful grounds and lush privacy landscaping in addition to a swimming pool, spa and lounge decks along with a covered summer kitchen and entertainment area."
Zana says there is great synergy in developing Indigo Vero Beach and Blue at 8050 Ocean at the same time, and that is one reason he and his partner in both projects decided to forgo the sweet profit of selling out to another developer.
The two projects offer different options and advantages. Blue has more amenities while Indigo is closer "to town." Prices at Blue start at $1,645,000 for a 3,300-square-foot corner condo and go up over $4 million for a 6,600-square-foot, full-floor penthouse, while Indigo offers two types of villas and a third condo option in the $2 million to $3.2 million range.
When an oceanfront buyer turns up A1A to take a look, Zana has a diverse portfolio to show.
"Right now, we pretty much control new oceanfront in Vero," Zana said. "One reason we didn't sell Indigo is we didn't like the idea of creating a competitor."
Butler says she likes the size of the homes at Indigo, "with four bedrooms and around 3,500 square feet, because many buyers are looking for second homes where they can have multiple generations visit.
"This community should do well in those price ranges. I look forward to seeing the project get started."