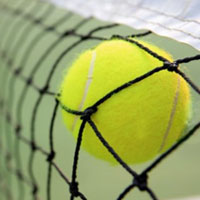 John's Island tennis pro moving to Sea Oaks to replace retiring director
STORY BY RAY MCNULTY (Week of December 3, 2020)

After 28 years on the Har-Tru courts of Sea Oaks – the past 24 as tennis director – Brad Leu will leave the island club at the end of January and move to North Carolina.
But not for another job.
"I'm retiring," Leu, 58, said last weekend. "I've been teaching tennis for 35 years, and I'm getting near retirement age, anyway. So, it was time."
Divorced and now engaged to a woman who lives in Raleigh, Leu said he and his fiancée no longer wanted to travel back and forth to spend time together and he decided to move north.
Leu will be replaced by Joe Biedenharn, 55, who spent the past 12 years as the head pro at John's Island and previously worked at The Boulevard Tennis Club, Indian Trails and Sea Oaks, where he was an assistant pro from 1996 to 2000.
Biedenharn, scheduled to start his new job on Jan. 15, will oversee the Vero Beach area's busiest tennis club – as many as 300 players fill the 16-court complex each day during the busy season – where a $1.5 million set of upgrades will be completed next month.
The project, which Leu began pitching 10 years ago, included rebuilding all 16 courts and equipping them with a state-of-the-art, underground watering system.
"My timing is pretty good," Biedenharn said. "The courts are magnificent. I'm already pretty familiar with the club. It's a new challenge for me, for sure, but it'll be fun."
Leu said the decision to leave the tennis-crazy Sea Oaks community was difficult – mostly because of the people he'll leave behind.
"When you're there for 28, you get to know the people pretty well and build relationships with them," Leu said. "They see you go through your life. You see them go through theirs. You get to know them; you get to know their kids. You become friends, and they mean something to you.
"Sea Oaks is a closed club – you have to live there to be a member – so you see these people all the time, not just on the tennis court," he added. "It's a deeper relationship than you'll see at clubs where people drive in to play and leave when they're done.
"It makes it harder to say goodbye."
Leu said he was working at clubs in Connecticut when a member who lived at John's Island told him about Vero Beach and suggested he might want to work here. While visiting in 1993, he was hired by Craig Wittus, a former All-America player at Miami University in Ohio and top-100 tour pro who was Sea Oaks' tennis director from 1991-97.
It was Wittus, in fact, who created the wildly popular tradition of local pros playing weekly exhibition matches at Sea Oaks on Wednesday afternoons during the season.
"Craig started the exhibitions 30 years ago, and we're up to 22 of them every year," Leu said. "They showcase the club as a flagship for tennis in Vero Beach."
Leu's local legacy goes beyond the Sea Oaks gates: He created the Indian River County Tennis Association, where teams from area clubs compete in league play on multiple levels.
In addition, Leu is a past president of the 1,800-member Florida chapter of the United States Professional Tennis Association, which offers certification to and governs the nation's teaching pros.
He also served on the USPTA's Executive Committee for eight years, completing his final term earlier this year.
"Every once in a while, I'd think about doing something else," Leu said, "but I've been either a head pro or tennis director the entire time, and it was hard to find something that paid as well."
Leu said he might eventually teach tennis again, but not on a full-time basis.
Biedenharn, meanwhile, expects his new job at Sea Oaks, where he'll receive a pay increase, to be his last.
"I really thought I was never going to leave John's Island voluntarily," said Biedenharn, who played tennis at Flagler College. "I knew about the job at Sea Oaks for a few weeks before I actually pursued it. As much as I have a wonderful job right now, the more I thought about it, the more it seemed like the thing to do.
"Change can be good," he added. "I'm excited about it."