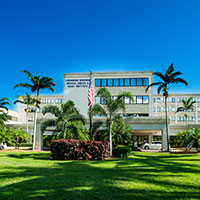 Lawnwood Regional Medical Center plans $100 million expansion
STORY BY GEORGE ANDREASSI (Week of December 17, 2020)

Cleveland Clinic Indian River Hospital's large for-profit competitor to the south, Lawnwood Regional Medical Center in Fort Pierce, is embarking on a major modernization.
Hospital giant HCA Inc., of Nashville, plans to start work in early 2021 on a 92,500-square-foot expansion of Lawnwood including the addition of a new emergency department, increasing the size of the hospital by about 30 percent.
The start date is contingent on the Fort Pierce City Commission approving HCA's proposed rezoning and the site plan for the 22.36-acre hospital campus at 1700 S. 23rd St.
The final public hearing was set for next Monday after city commissioners voted unanimously on Dec. 7 to approve the project during the first hearing.
Permit applications have been submitted to the city Building Department for the project's first phase, records show. It will add 32 beds to the hospital.
Phase 1 entails the construction of a three-story medical tower, including build-out of the first two floors. The third floor of the tower will be built out in Phase 2 and an emergency room will be constructed on the north side of the hospital complex.
Phases 3 through 5 will add two more floors to the medical tower and include construction of a parking structure.
Lawnwood Regional Medical Center currently is 305,187 square feet, records show. The hospital was originally built in 1977 and underwent multimillion additions and/or renovations in 1998, 2001, 2005, 2010 and 2017.
Competition between Lawnwood and Cleveland Clinic Indian River Hospital flared up a year ago when Lawnwood opened the first freestanding emergency room in Indian River County on U.S. 1 near Oslo Road.
The Fort Pierce hospital worked out a deal with Indian River County emergency management officials whereby anyone living south of 8th Street who called 911 for a lower-level medical emergency would automatically be taken to the Lawnwood ER.
Indian River County Hospital District officials bristled at that and convinced the county to undo the deal, leaving it up to patients to decide if they want to go to the new ER or to the ER at Cleveland Clinic's hospital.