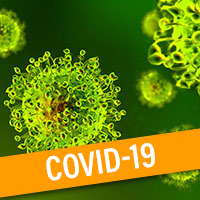 No Thanksgiving spike seen here in COVID-19 cases
STORY BY LISA ZAHNER (Week of December 17, 2020)

The feared post-Thanksgiving spike in new COVID-19 infections has not shown itself in Indian River County as numbers stayed nearly the same as the previous week, and after two high-count weeks for island cases, the 32963 ZIP code posted a 30 percent decrease. 
Countywide, 285 positive coronavirus test results were reported in the seven days leading up to Monday press time, versus 276 cases the previous week, pushing the daily case average up just slightly from 39 to 40 cases per day. By comparison, Indian River County's peak this summer topped out at 55 cases per day, or 375 cases in our worst week.
Twenty-two people were hospitalized for complications of COVID-19 over the past week – the same number as in the previous week – and 19 people were currently hospitalized at Monday press time. One third of the county's 30 staffed intensive-care beds are available.
Five people succumbed to COVID-19 in the past week, this grim statistic also tracking the same as the previous week, with the cumulative number of people who have died locally totaling 147 as of Monday's reporting, 74 of those deaths being long-term care facility residents. Of Florida's deaths, 38 percent have been nursing home and assisted-living community residents.
Florida surpassed 20,000 total reported dead due to the virus on Monday, as the United States topped 300,000.
This week's launch of the new Pfizer-BioNTech vaccine will hopefully slow that rising death toll.
The age group that makes up the largest percentage of Indian River County hospitalizations is the 75 to 84 age group, but with advances in therapeutics and greater knowledge about COVID-19 disease, that group's outcomes are far better than the 85-plus group.
People age 34 and younger accounted for 43 percent of the total new infections on Monday, higher than the 30 percent of cases for age 34 and younger one week ago, and the 38 percent of total cases overall for younger people.
It's too soon to tell if this will become a significant trend as the Christmas school holidays approach next week and families weigh the risks of traveling and getting together for large, multigenerational celebrations, with the desire to maintain family traditions and visit loved ones balanced against increased risk of infection.